When I shot Anna & Aaron's fun & relaxed hometown engagement portraits I found it hard to imagine this girl/boy-next-door couple in the glamorous setting of The Ritz-Carlton downtown by Battery Park, where they were to be married– they're totally down to earth people, after all, so it was all the more exciting to see them get all dressed up and celebrate in such style with their friends and family!  Underneath the elegant trimmings of this wedding you'll see an incredible couple that is truly in love– and two families that are bonded in a way I've not seen before!  Longtime neighborhood friends, these families fit together like peas and carrots, and seeing them celebrate the merging of their clans at the marriage of these two beautiful people was just really special.  I loved hearing the Rabbi describe them as children and READ FROM BOTH of their Bar and Bat Mitzvah speeches– firstly because it was so cute to hear the 13-year-old voices of Anna and Aaron whom I only know as adults, and secondly because it just amazed me that the shared history of their families goes back this far.   On to the credits…
I just LOVED Anna's dress– an Anne Barge design of course, perfect with her golden heels by Jimmy Choo!  Anna and Aaron made some elegant decisions with their decor with help from the amazing designer, Kenny Davis— who (somehow!) installed these gold&crystal chandeliers over each reception table, and(!) had custom golden mercury-glass tabletops as a base for his creative tablescapes.  After watching a few Kenny Davis interviews on YouTube I see that incorporating this interesting mercury glass is one of his signature moves– very cool, Kenny!  The gold/white theme was carried through the event beautifully– even the bridesmaids wore white, which I've never seen before and I must say was stunning!  All the beautiful white and pastel rose florals you see here were done by Mark Masone of The Artful Event. Their cake was created by Sugar Sweet Sunshine, and the AMAZING band that took this party to the next level was called The Rhythm Shop.  Stephanie Caplan created the beautiful custom-made watercolor Ketubah.  Favors for guests were from William Greenberg, and the invitations were designed by Mona Seltzer of the Alpine Creative Group.  Though it came towards the very end of my season, some of my favorite shots of the year happened at this wedding, and I want to give a big thanks to Jeff Zorabedian for his excellent 2nd shooting.
Congratulations, Anna & Aaron– may your love last forever!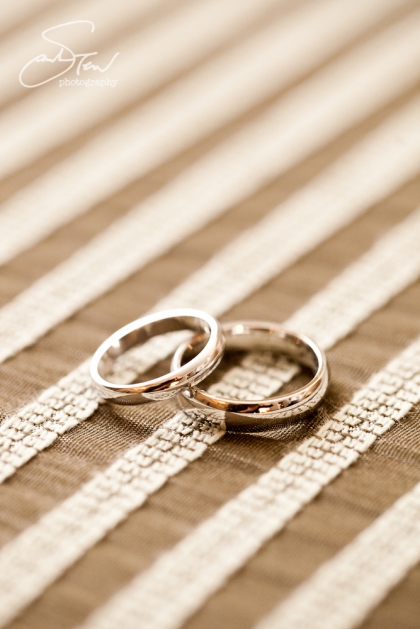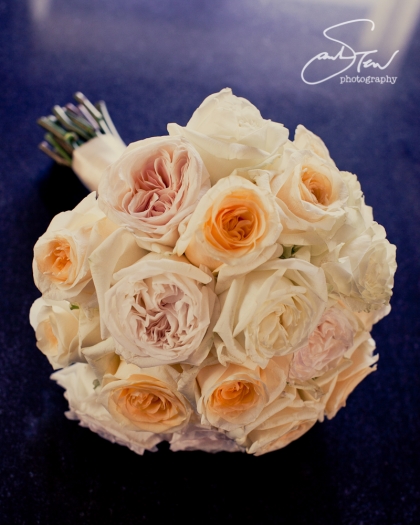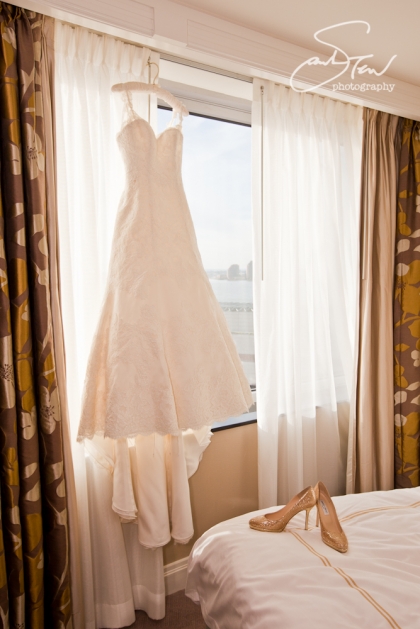 I told Jeff to have Aaron stand on this landing and wait for his Bride for their first look!






After a quick round of portraits outside we went up to the 14th floor terrace with the wedding party– it was quite windy and pretty cold but we managed to get some fun shots up there right as the sun was setting.  The view up there is quite lovely!





We then headed back downstairs to do a set of family group portraits before the Ketubah signing…

It was really moving how Anna's Dad got emotional when he saw her in her dress for the first time!




While we finished the Ketubah ceremony the guests had been taken up to the 14th floor where the ceremony was held.



It was an extremely long and narrow space (and it was after dark) so Jeff and I set up a few lights to try and better illuminate the aisle-walking portion of the wedding.  I always love it when this works– makes for some nice dimension in the crowd, don't you think?



See, if I didn't have those lights up I probably couldn't have gotten her lit up properly down the aisle until she was within closer range of my flash.  I love this shot above!

































Comments
Powered by Facebook Comments