Samantha and John are actors, which delighted me.  I was a theatre directing major (doubled in religion) back at Wesleyan, so working with actors is extremely comfortable for me and I knew they would be super fun to shoot with.  I got a preview of the fun to come on Friday night at their rehearsal dinner, where they had me come and capture some pre-dinner portraits on the street and a good portion of the dinner party, complete with moving toasts from friends and family.  These two were clearly made for each other and their friends all delight in how happy the relationship has made them.  On wedding day I began by documenting Samantha's getting ready process at a lovely Airbnb rental she found just a few blocks from their incredible rustic-industrial venue,
The Greenpoint Loft
, an old rope factory that's been brought to life as an exquisite event space in the heart of north Brooklyn's Greenpoint neighborhood.  To make things even more amazing, there was a fabulous little waterfront park right nearby too, so once we had their first look on the street we wound our way over to the water and back, snapping some lovely couple portraits along the way.  Samantha had put together her own wedding gown from 2 pieces she selected that worked beautifully together– she looked amazing from head to toe.  I couldn't resist asking her to twirl around for John after their first look, and sure enough her beauty just blew him away!  After arriving at the loft and shooting some group pictures on the roof deck, guests were gathered downstairs for their ceremony.  True to their theatre backgrounds, the ceremony was "in the round," which must have felt very cool for them– to be surrounded on all sides by loving friends and family!  I loved getting to walk around and capture different angles on the whole thing, and the balcony provided an excellent wide shot from above.  After they tied the knot, Samantha and John took some time to themselves in the bridal suite while guests were treated to a cocktail hour and able to wander upstairs and take in the views from the roof while staff cleared the chairs and transformed the space into a big beautiful dance floor.  After introductions, these two did not disappoint when it came to their first dance choreography!  Other highlights of the evening included a series of moving and hilarious toasts, and of course there was tons of talent and enthusiasm on the dance floor–what would you expect from a theatre crowd?  I got to cap the night off with a pretty night portrait up on the roof with manhattan's skylight glittering in the background. I couldn't have been more delighted to photograph this momentous occasion– congratulations to Samantha and John!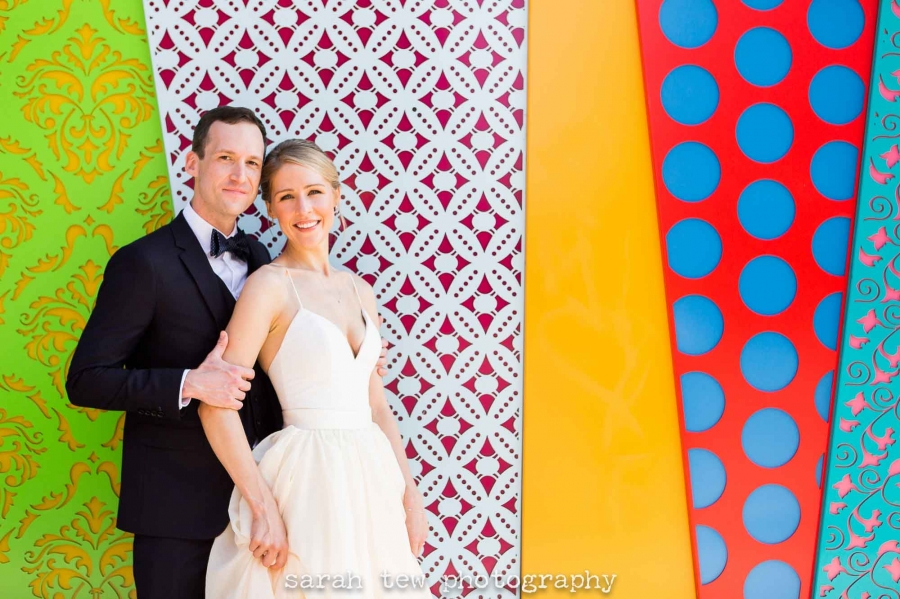 Samantha & John's wedding at The Greenpoint Loft in Brooklyn NY from Sarah Tew Photography on Vimeo.
Vendor Credits:
Comments
Powered by Facebook Comments