Keith and I made it legal this labor day weekend– up in Boothbay Harbor, Maine, near my parent's house at an adorable rustic place called the Linekin Bay Resort.  Highly recommend it if you're considering a wedding in Maine and cabins along the shore/in the woods are your cup of tea.  Cabins without TV's or phones, that is!  It was a delightful weekend and we couldn't have asked for better weather… I haven't seen many photos yet but here's a sneak preview — this one is by my good friend and frequent 2nd shooter/assistant, Jeff Zorabedian… it was, in a word, FABULOUS!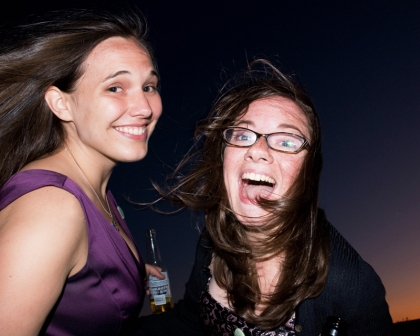 Inestead of a rehearsal dinner we took all our guests out on a sunset cruise the night before the wedding– watched the sun go down and the full moon rise over the water, drinks and dancing with our favorite dj friends on the turntables… and my friend Beth here graced us with a really sweet and funny toast!  so much fun!  After splitting up for dinner in town we headed back to the grounds for a BYOB/marshmallow-roasting campfire on the rocky shore.  It was a wonderful evening, and the weather was just right.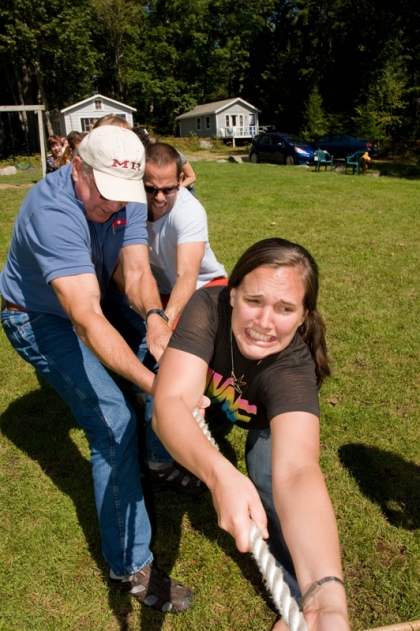 Sunday morning we got everyone out on the field for some good old-fashioned Olympic Games.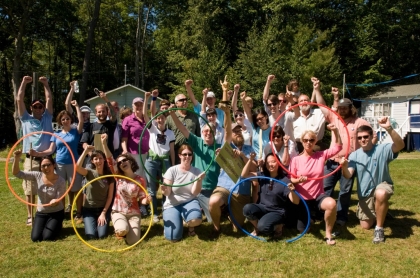 We pitted our family and friends against one another in a competition for the ultimate trophy:  The Upper Hand (in our marriage).  Gaugers, above, were victorious, but I have my ways… the upper hand WILL be mine, oh yes, it Will be.

We used flowers (on the reception tables, fellas' boutennieres, and my bouquet) crafted out of our favorite book, Infinite Jest by David Foster Wallace– we had talked about this book a lot when we first got to know eachother, and it seemed like a beautiful tribute to the author, who sadly died earlier this year.


The home-iness of this venue really fit our personalities and our vision for a fun wedding weekend spent with family and friends.  As you can see we recycled green beer bottles for our vases, saving a small fortune in the process…  it's all about the DIY stuff when you're on a budget!  I loved the pine walls.  The "continental breakfast" there was to die for.  My mouth still waters for the blueberry pancakes and cinnamon-walnut/banana french toast…

My groom got ready at our cabin while i got dressed over at my parents house… after everyone was seated for the ceremony we (my parents and I) arrived at the dock in my grandmother's boat.  It was a grand entrance indeed.

Here I am on the boatride over to the ceremony… going over my vows, which of course we wrote ourselves!


Our good friend and former across-the-hall neighbor Micah officiated the ceremony… he did a great job.

After the ceremony we posed for family photos and did a quick series of 'couple portraits' with Joe, our official photographer, so there will surely be a few more to add here, but for now all I have is Jeff's stuff…This was our ceremony arch– totally crafted by none other than Sarah Tew of course.  We had our guests come up before the ceremony to tie on little heart shaped cards i sent out with the invitations.  Here's a shot my brother took of it later that night (lit up).  Mostly it was decorated with a piece of purple chiffon, strips of mint-green dupioni silk for the bows, and some silver glittery leaves i found in the flower district.  My favorite things on the arch were the pieces of old chandelier crystals that i hung from around the top of it. 


I will skip to the dancing as i don't want this blogpost to be uber-long…dinner was vegetarian- a menu of our design, built to satisfy the hunger of even the most protein-committed guests.  There were some really sweet toasts from family and friends… and a fresh blueberry cobbler in lieu of an expensive wedding cake…

My little sister Alice was such a huge help all weekend.  I gave her the itinerary and lists and boy did she execute… proved to be a taskmaster after my own heart!Seriously, we

Seriously we had the time of our lives.  It was worth every bit of planning and work and money, no doubt about it.  Weddings are so much fun for me, but really when it's your own wedding it's like an entirely amazing experience.   Here we are at the 'afterparty' (in Micah's cabin, with the woodstove going to keep everybody warm… it got chilly at night).  Proud to say neither of us were the slightest bit hung over the next day– I was already having so much fun and I forgot to drink very much during the reception.

I finally understand fully how important the photography is…   I always knew the importance theoretically but i think until you get married yourself it's sort of hard to fully grasp the emotional power of having great photographs to look at and remember the event.
Comments
Powered by Facebook Comments