I've shot a bunch of weddings at Housing Works Bookstore in Soho-– it's a delightful venue and I always get a kick out of shooting there and I knew this wedding would be unique when Jen told me it would be ***Halloween themed*** AND that guests would be invited to attend in costume!  Hmmm, yes it MIGHT be fun to photograph that wedding, SIGN ME UP!!! Though the bride and groom wore traditional wedding-wear the brilliant & entertaining Reverend D was dressed up as the Evil Queen from Snow White and MANY of the guests were indeed dressed up! DIY decor included simple black and orange tablescapes featuring pumpkins, gourds, and googly-eyed candles with some funny 'costume' props scattered about, a jacko-lantern with the couple's initials at the entrance, and a card catalog drawer with the guests' escort cards leading them to their tables, which were represented with a selection of the couple's favorite and/or halloween-appropriate books… Even the band was dressed up in costume and Jen's step-dad made a cameo appearance playing Saxophone for some numbers. Highlights included their dog Gandalf playing ring-bearer, a moving serenade-toast from Jen's mother, and some super-cute family units that had put together matching costume sets.  I got a kick out of shooting their rings on the cover of a book on halloween pumpkin styling too!  At the end of the night I took Jen & Peter out in front of the bookstore and we made an experimental night portrait with a string of lights I recently purchased for this very idea… check out my faves!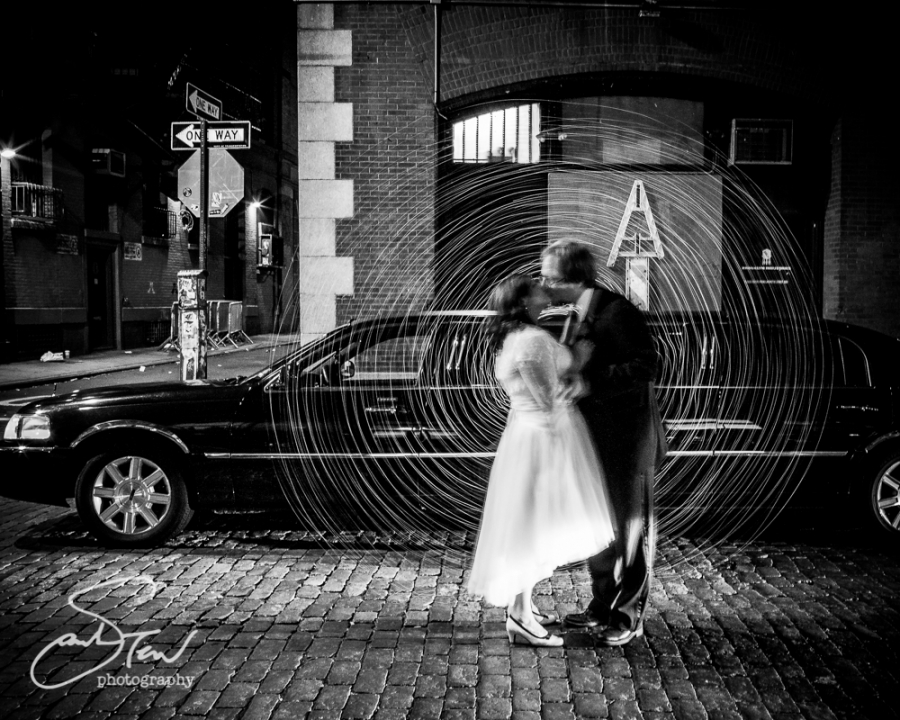 Vendors:
Venue: Housing Works Bookstore Cafe
Catering by The Works Catering
Halloween wedding Decor: DIY!
Officiant: The Reverend D
Dress: David's Bridal
Comments
Powered by Facebook Comments