Julie & Rebecca were referred to me by their venue, Housing Works Bookstore, where I've become a regular recommended vendor… I've so enjoyed returning to this venue and getting to see how different couples utilize the interesting and beautiful spaces of this bookstore to bring their celebrations to life!  Since the sun was setting so early (4:30pm, if you can beleive that) I met them for a portrait-walk around SOHO before we were going to go in and get set up for the ceremony… we had just enough time for a really fun round of shots in the blocks surrounding Housing Works– but you know me, I can shoot portraits of couples for hours so I was sad when it started getting dark– Julie and Rebecca have such a totally relaxed and close chemistry together, so they were absolute naturals at having their picture taken! We went inside and did some family group portraits and a Ketubah ceremony with their officiant, Rabbi Diana Miller.  Then the guests started streaming in and taking their seats for the main event.  It was very moving– it always is– but this was the first full-scale-reception-included event I've shot for a same sex couple since New York legalized same sex marriage, and as you can imagine, the emotions were strong and the joy in that room was palpable.  After the ceremony there were cocktails and a righteous first dance followed by the Hora.  The dancing was fantastic at this event, as was the music… great DJ'ing by Cat of Two Hearts Beat-– I think you might be my new favorite wedding DJ!  Congratulations, Julie & Rebecca– you two are perfect together!
To view this slideshow in a little larger size, click on the word VIMEO down in the right corner… but don't forget to check out my favorites below!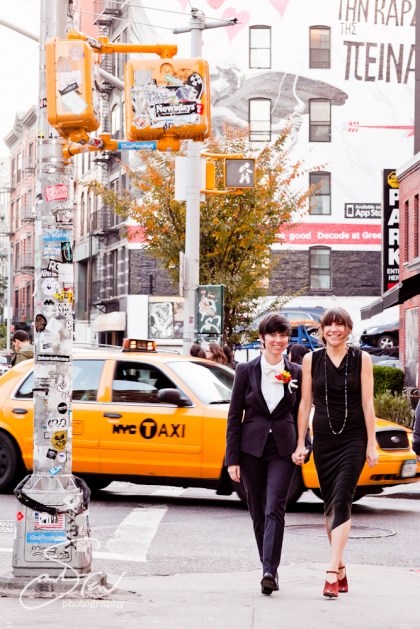 The beautiful long necklace you see on Rebecca is from Plume.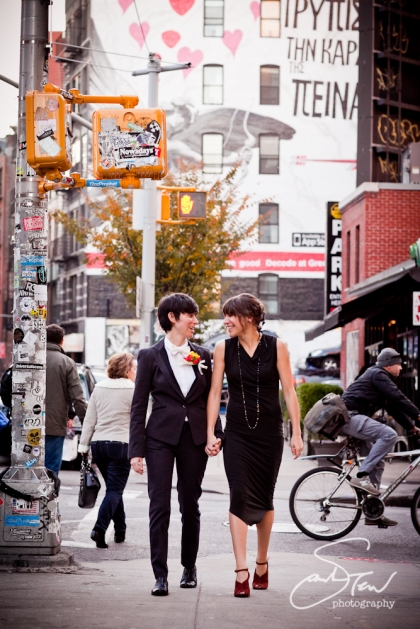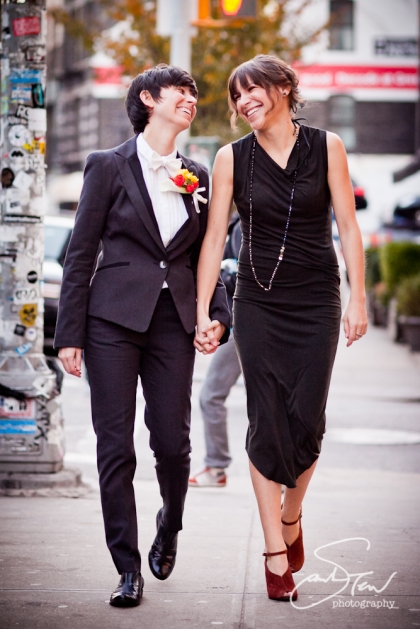 Julie wore a stunning suit from Comptoir Des Cotonniers…. Rebecca's Hair was done up by Esther Ahn, and she is wearing a dress from Helmut Lang.



Rebecca's shoes are from Anthropologie.



I had scouted the area just before meeting them and asked if this funny little shop would let us shoot for a minute under their carousel horse… Usually people are more than happy to let me shoot a couple getting married in their establishment if I'm quick 🙂











Flowers were done by Julie's Aunt– I just loved seeing them all here on the book-cart as they were preparing to set them out on the tables!





Julie & Rebecca's Ketubah and Invitations were created by Eliza Jane Curtis.

After the Ketubah ceremony guests were allowed to enter and sit down for the main event… though the space is small, it's cozy and the energy in the room was wonderful as Rebecca and Julie circled each other at the Chuppah, below.




After a series of sweet thoughts on Julie & Rebecca's relationship expressed by friends and family, they exchanged their vows, and broke a glass.  Mazeltov!





Great shot above from Dmitry, my 2nd shooter on this wedding!

Recognize this move?  This is their first dance.  Any guesses yet?

They did the first part of their choreography on the upper level (balcony) and danced their way downstairs…

That's right… they had the time of our lives.

Rebecca's mom couldn't contain her delight– Dirty Dancing was one of her favorite movies– and yes, the choreographed dance was a total surprise to most everyone at the wedding (except their choreographer friend who helped them learn it and a few other "backup dancers" for the ensemble part towards the end…)



Time for the Hora, everyone!













Comments
Powered by Facebook Comments