It's rare that I do an e-session during the winter months, period.  AND it's rare that I shoot with such fun-loving people– Liz and Doug were totally awesome to work with and seemed to enjoy themselves despite the fact that they weren't wearing hats in 24 degree weather.   My engagement portrait shoots are usually around 90 minutes but because we got a hankering for shots with the ice-skating rink in the background we walked an extra 15 minutes or so down to the bottom of Central Park and poor Liz was probably numb with cold.  I myself was pretty cold, having to wear fingerless gloves to use my cameras easily– but the hat, I fear, I could *not* have done without.  Congratulations to Liz and Doug– they got some great shots and will be married in a month!  Look for a wedding post on them in late february.  They're getting married at Central Park Boathouse on 2/20 and I can't wait to shoot them again!  Here are a handful of my favorites from the shoot.
[youtube=http://www.youtube.com/watch?v=LLt_NrHWAAg&hl=en&fs=1]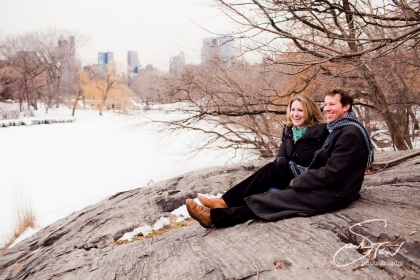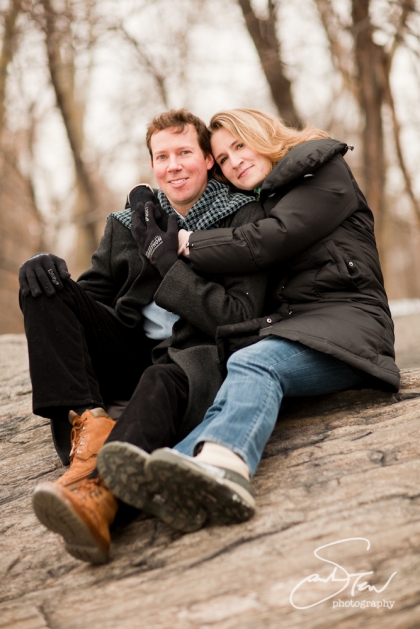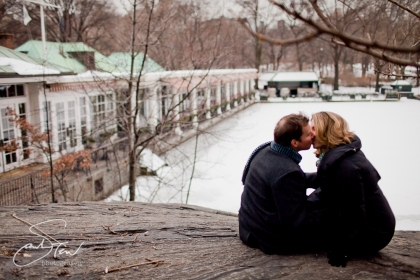 I met them at Central Park Boathouse right after they did their official tasting for the wedding menu selections… That's the boathouse to the left up there…


Fun with silhouettes!

I realized while shooting how different everything is in winter– I've shot at this tunnel before but didn't recognize it without all the usual leaves!




The bandshell area was nice and empty– in the spring and summer it's usually teaming with people.




I love this one.  LOVE it. Doesn't Doug just look radiantly happy?  These guys have an amazing rapport.

We came upon a miniature snowman in a water fountain.  Needless to say, it had to be photographed.

After our walk down to the skating rink, Doug and Liz warmed up with some hot chocolate as we waited for the Trump's  Zamboni to finish up it's rounds…


We finished the shoot with a good healthy snowball fight.  And poor Liz got taken down in a very photogenic snow-tackle.  Thanks for looking!

Comments
Powered by Facebook Comments