The following is Q&A with Wendy after her recent home birth in Manhattan.  I was so honored to be there and capture this special experience for their family and to share with my viewers both here on my blog and ultimately in my documentary photography book on Home Birth.  I hope the photos and story will inspire those of you who may be considering a home birth in NYC to get in touch about having your labor photographed as part of my project– I'm always seeking subjects! — Sarah
How did your labor go?  Describe your birth experience as you remember it…How did you feel about the care you received?  
Wonderful. It was the second time I used JJB Midwifery and they are so competent and lovely to work with.
Did you feel safe?  What went well?  What didn't?
I felt safe in my environment since I was able to have the planned home birth I had envisioned to bring my daughter into the world. I spoke up when I had a need and everyone listened and respected my requests and feelings. The only aspect that didn't go as planned was that I lost a lot of blood when delivering the placenta because part of the sac was attached to my uterine wall. But my midwife handled the situation calmly and effectively and was able to stop the bleeding before anything serious happened.
Describe the experience of pain during your labor and if possible describe you handled it in your mind, and what, if anything physical, helped you manage it (massage, birthing pool, acupuncture, postures, breathing, etc).
One of the reasons I love having home births is that I was able to labor in the places and positions that felt right to me. I started out in the tub, moved to the bed, then to our soft ottoman to "shake the baby" down into the correct position (she was posterior before that), then to the pool and finally to the bed again. I had back labor and my doula and birth assistant put pressure on my back and provided massage to help alleviate the pain. I also studied a Hypnobabies program and was able to practice deep relaxation to manage the pain.
How did the reality compare with the birth plan?  What surprised you? 
Everything went as planned except that I didn't end up having a water birth like I did with my first. The baby's heart rate was indicating that she was in stress after a period of time laboring in the birth pool so my midwife moved me to the bed where I ended up birthing.
Describe the moments after birth, and/or what went through your mind when you were meeting your new baby for the first time. 
I was relieved that she was finally here after being 17 days overdue. And I felt really happy once she started crying and breathing well.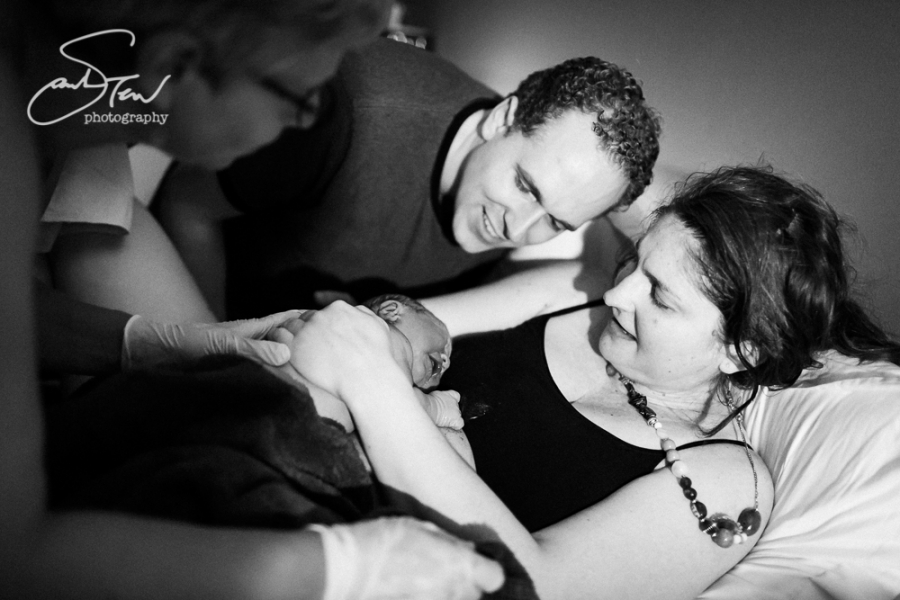 Comments
Powered by Facebook Comments