So last Saturday I had the pleasure of shooting the wedding of Adam and Shireen at the SOHO Housing Works Bookstore. These two are both fellow Wesleyan alumni (though we weren't there during the same time, I always get a thrill out of working with other grads and seeing where life has taken them– Wesleyan produces the most excellent people, I recommend it if you're looking for a college to promote to any bright kids in your life!) Anyway they were looking forward to having a very intimate lower-key wedding in– of all places– A BOOKSTORE! I was thrilled, this would be a new challenge, and being an avid reader and lover of books myself (I actually have a major collection of dusty old volumes that i will never part with) I found this somewhat thrilling. I loved utilizing the balcony level and took them upstairs towards the end of the night so as to capture this beauty of them kissing 'in the stacks' so to speak…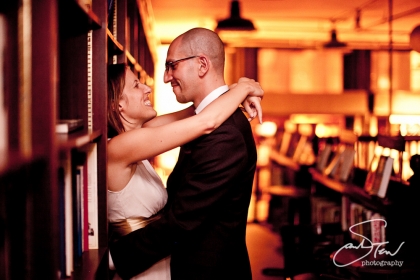 And my awesome 2nd photographer, Jeff (also a Wesleyan grad!!) set up one of my portable flashes outdoors in the adjacent alley so we could capture a nice end-of-the-wedding nightshot… complete with 'hair light'–  Great shot, Jeff!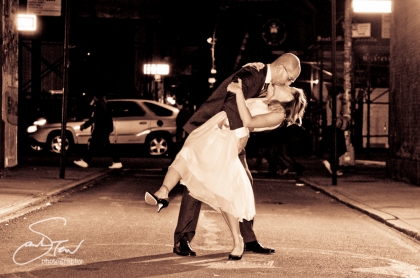 Here are the rest of my favorites… Congratulations, Adam and Shireen!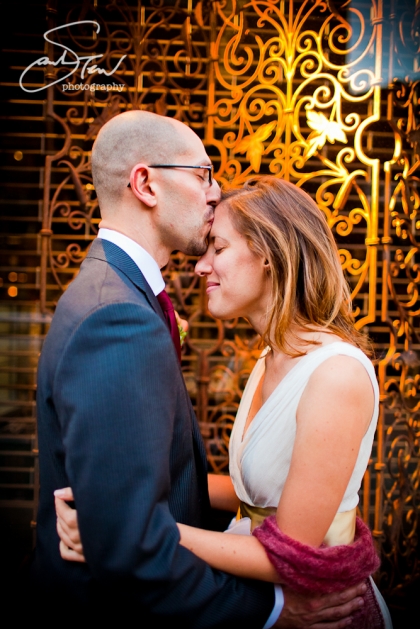 I just love their expressions in this one above… doesn't he look so proud to be marrying her?  And she's just tickled!  Weddings are awesome everywhere but it's something special to walk down a city street in your wedding finery and have people looking at you and shouting congratulations, it's lots of fun.




The walls of shelving called for a little something special from my fisheye lens…

I was enthusiastic about the composition of this staircase/cupcake tower…nice placement by the caterering team.









And of course… the slideshow can be viewed at highest resolution on my facebook page… or here it is a bit smaller below…
[youtube=http://www.youtube.com/watch?v=HHeSjQViJsw&fs=1&hl=en_US]
Comments
Powered by Facebook Comments