Amy & Andrew found me through The Housing Works Bookstore Cafe— their chosen wedding venue, where I shot Adam & Shireen's wedding last fall.  I was so excited to shoot at this sweet bookstore again– everything this organization does helps AIDS advocacy… so for those of you looking for ways your wedding can "give back", this venue might be for you.  I must say the catering team at The Works does an amazing job– they even remembered I'm a vegetarian without me having to mention it!  This venue was perfect for Amy and Andrew, as they were having a smaller more intimate wedding with close friends and family, and the bookshop felt nice and cozy with all the shelves of books on the walls!  Amy and Andrew wanted to wait until the ceremony to see each other dressed, so for this wedding I went to the bride's hotel room at the Hotel Mela for some shots of her and her gals getting ready, followed by a quick set of portraits of them outside– and again down by the bookstore, along with a turn for the guys, who had been hanging string lights and getting ready in the basement of the bookstore.  There were so many cute spots around the hotel and the Bookstore (I mean, it is SOHO!), I was excited to have plenty of time to play with the gals & guys making separate group portraits.  The ceremony was sweet and emotional– I must say I love it when grooms get choked up and Andrew did not disappoint!  It was dark out after the ceremony so I waited and did their "couple portraits" outside til later after they'd had a chance to catch up with friends and family throughout the cocktail hour and reception.  Some of my favorite portraits these days are night shots where I steal the bride and groom outside for a few minutes and create a dramatic shot with my assistant holding a light on a stand.  Scroll down to the last few favorites to see those…
To view the slideshow at optimum size click on "VIMEO" to watch it in their player… then come back to check out my favorite stills below…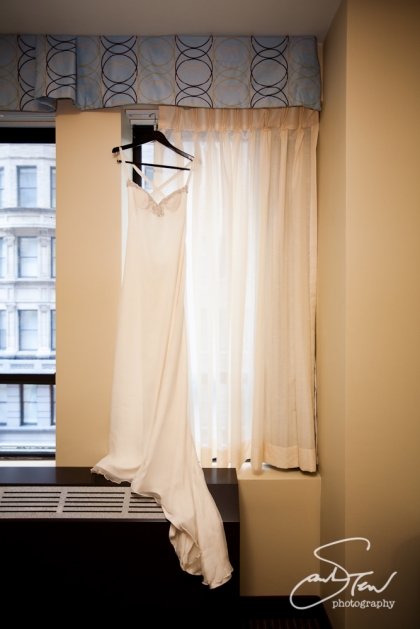 When I met with Amy and Andrew for their consultation I had the opportunity to recommend she check out the Bridal Garden– an amazing nonprofit store that sells donated gowns and gives 100% of the proceeds to an NYC educational charity.  It's by appointment only, and they have a surprisingly high-end and beautiful collection of dresses at any given time.  I was so thrilled to hear that Amy found this gown from Winnie Couture there!  Her shoes, below, are Jimmy Choos.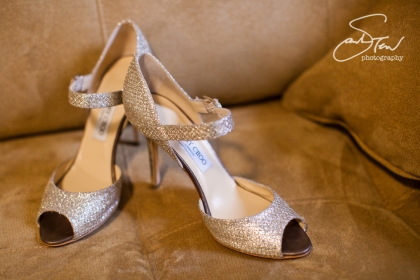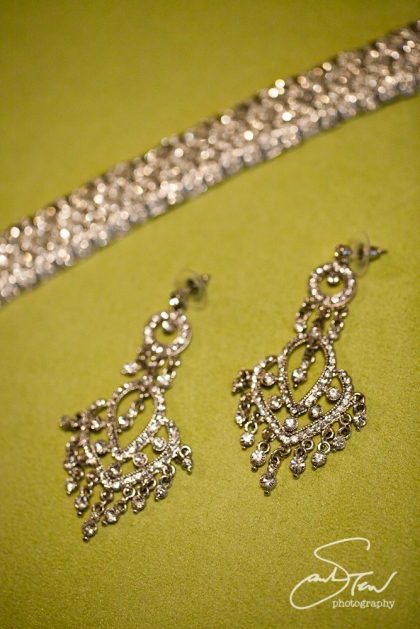 She wore elegant chandelier-style earrings paired with her great-grandmother's bracelet.  The bouquets for Amy and her bridesmaids, along with the boutennieres for the groomsment were made of white feathers.  She ordered them from talented Etsy-seller La Plume Ethere.


Down in the lobby of the Hotel where Amy got ready I spotted this gorgeous red velvet couch and just HAD to make this portrait… she looked so gorgeous in this dress… not everyone can pull of a dress like this, so as far as I was concerned it had to be flaunted!  Hair and makeup by Angela Wang of Embellir Artistry.

Right across from the Hotel was a business-y building but it had amazing blue-mirrored exteriors… great to set off Amy in her white gown.


Once all three bridesmaids were done with hair and makeup we did a quick round of portraits there, and then met down at the bookstore for a few more while I waited for the guys to get ready.


GOOD TIMES!  I couldn't resist the playful storefront with it's cupcakes and donut covered windows… And of course when I saw this set of 4 antique dress forms in another store window I knew it would be perfect for a portrait of my gals.

Back at the bookstore the groomsmen were busy hanging up these sweet stringlights.

Andrew gets his suit together downstairs…


It felt like the secret stacks down there in the basement… I guess these are books waiting for their turn to be sold.


I took the fellas out for a spin around the block once they were in gear– here we are in front of the Puck Building, which was mostly covered in scaffolding but I managed to get a clean shot of them on the stairs, which I just loved the look of…

And hey, when you convert to black and white the scaffolding itself has a pretty awesome graphic vibe to it too!

We went back to the bookstore in time for me to snap a few last details– here is my shot of their rings, probably one of my favorite ringshots ever– I arranged the books just so!  Found these in the "rare and unusual" section!  Their rings were from Zales.








Amy has one of those laughing smiles that just lights up a room.  Andrew is one lucky fellow- just keep her smiling, Andrew, and you'll never need anything else!








The cupcakes were from none other than NYC's original cupcake madness-inspiring Magnolia Bakery.



As we walked past a local bar's courtyard on this saturday night Amy and Andrew got cheers and congratulations from the patrons… it was a sweet moment and Andrew turned to them and proudly exclaimed "Look at my beautiful WIFE!  Isn't she Beautiful?!"  (I think those were his exact words) and they cheered louder, of course!  It was a touching moment.  Congratulations, Amy & Andrew!  You guys deserve every happiness!
Comments
Powered by Facebook Comments