Amy & Jon saw me shooting at their friends' Anne & Bret's wedding a while back– they had been admired Anne & Bret's guestbook of engagement portraits and enjoyed the resulting images from the wedding in their online gallery, so when they got down to the business of planning their own wedding at David's Country Inn not far from the city, they got in touch to see if I was available.  Anne & Bret have since moved to Seattle so I didn't have the pleasure of seeing them at the wedding, but it was such a big and busy wedding I'm not sure I would have had time to chat with them anyhow!  I really enjoyed the interiors at David's Country Inn– an older venue that's really held onto some of its' charming and unique features over the years.  Check out the amazing balconies in the ballroom and cocktail areas…and their baby-blue bridal suite was so lovely I had to bring Jon in for a portrait with Amy once they'd had their first look.  One thing I must say I enjoyed at this wedding was the closeness and fun spirit of the families.  It was on the larger side, as far as my typical weddings go, and as usual this group really knew how to cut loose on the dance floor!  Congratulations, Amy & Jon!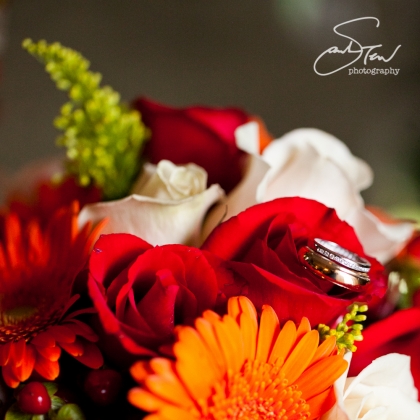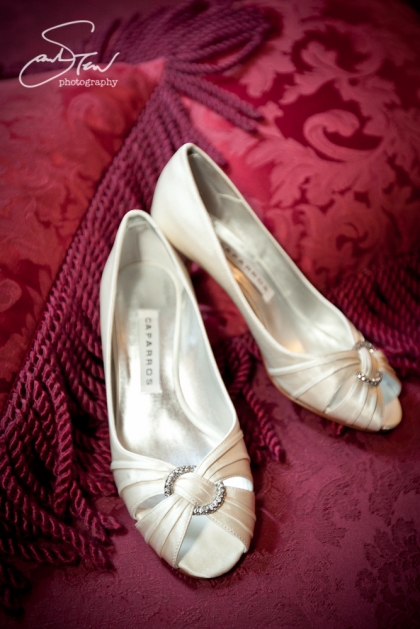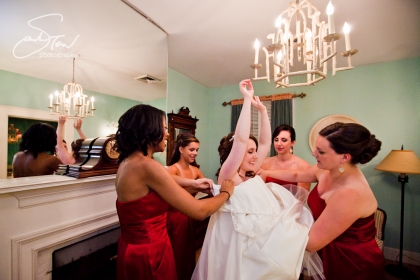 When Amy's mom went to put on the necklace (above, her grandmother's) for her they had such a sweet moment together it brought tears to several in the room.

It was time to present Amy to her grandmom!

And then to her groom!



This shot above of the flowergirl peeking through the window and watching the first look moments might be one of my favorite shots from the whole day… it was such a sweet and natural moment of this little girl being enchanted by the romance of a wedding…


Above, the bridal suite i mentioned loving, below a funny antique phonebooth I simply had to incorporate into a portrait!

After taking care of the family and wedding party portraits we made our way through some not-quite-yet-raining weather to the church a few doors down…





This church had no center aisle, but rather 2 aisles… which was an interesting change of pace for me… which made it a little harder to get a standard-head-on-viewof the kiss, etc.  Luckily there was a balcony as well, so we shot it from up and further away…



I just had to get Jon's mom's expression as she took in the ceremony…

This just tickles me to death… the maid of honor is covering the eyes of the flower girl during the kiss… so funny!


One thing that's always sweet about church ceremonies is that getting out of the space practically demands a receiving line.  Everyone always wants to hug and congratulate the bride and groom.  As long as the schedule allows time for this, it can make for great pictures…  one more reason I always go over a couple's timeline in advance so we can make sure to allocate enough time for those wedding party and family portraits if they're to be done following the ceremony.


On to the cocktail hour, back at David's Country Inn.  They have this cool antique wooden bar situation and a big stained glass ceiling with a balcony overlooking this room where cocktails were being served.  My fisheye lens came in handy for the shot below.

Downstairs guests mingled in several areas in addition to the room above.

Here's their guestbook, made with the engagement portraits and left out on a table for folks to sign– above are their login-info cards for guests to take so they'll know where and when to check online and view the photos from the wedding…

We grabbed some detail shots in the ballroom before the guests migrated in…

Amy and Jon made use of the cool balcony that overlooks the ballroom by walking along towards the staircase for their entrance while their guests applauded below…





Gotta love the way this balcony gave us a nice wide angle on the whole reception!

Toasts!



Amy & Jon's moms were tearing it up on the dance floor!


I love it when I have access to a balcony or other high point for taking pictures from above the reception.  With some off-camera lighting I got this nice shot above.


Comments
Powered by Facebook Comments