Last weekend I shot this sweet wedding in Connecticut in place of Jeff Zorabedian, who used to be a frequent 2nd shooter of mine but has been booking more of his own weddings lately, and, well, getting his wife pregnant!  He booked Beth & Michael's wedding date before Una was pregnant, and when they realized her due date would fall right around their wedding, Jeff wisely booked me as a 2nd shooter/ full backup solution 🙂  Sure enough, Saturday morning the phone rings and Una was in labor… I was honored to be able to put his mind at ease and take care of this wedding for him!  His smart backup planning included a stand-by assistant for me to call up should I turn out to be on my own, so I got to know his friend (also named) Sarah on the drive to CT, and she proved an excellent help throughout the day!
Beth and Michael both work in publishing, and make a really sweet couple. I was delighted to find that their venue, the Stamford Museum and Nature Center, was housed in a charming old mansion with beautiful surrounding grounds to inspire some portraits of the couple… I must say, I think the couple-portraits have become my favorite little part of shooting a wedding… people just look so gorgeous on their wedding day– the glow of happiness and the carefully selected finery combine with what is usually a really beautiful location lend themselves perfectly to capturing what I hope are going to be images that the couple will cherish and look at on mantles, walls, desk-frames, or in their wedding album for the rest of their lives… Despite the weather and Beth's elegant high heels we managed to get a good little round of portraits outside right after their ceremony and then re-entered to find cocktail hour in full swing. I loved the colorful (multi-colored) decor (lanterns, mini-toy favors, flowers & antique tins on the tables, etc) that this couple had going on to work with their vintage typewriter keys they had selected as a reoccurring theme (I suspect because of the couple's connection to books and publishing).  The venue proved to be a beautiful spot to have a ceremony indoors and staff expertly maneuvered the guests between the various areas for ceremony, cocktails, reception, and dancing.  They even had a nice little area for me to set up the photobooth during the reception– a good time was had by all…  Congratulations, Beth & Michael!  Your wedding was lovely!
Beth's gorgeous lace gown was by Cymbeline.  The shoes, below, were by Salvatore Ferragamo.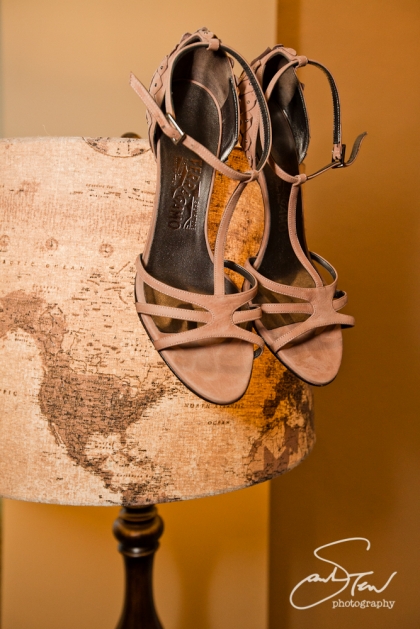 That's right, the shoes were so neat i had to photograph them from multiple angles 🙂


Bouquet above and boutennierres/corsages below (and the flowers you'll see later at the reception tables) were all by the amazing Poppies and Posies.

Michael's wedding ring was from Michael C. Fina, while Beth's was from Alex Sepkus.




Beth's hair was done up beautifully at Lanphier Day Spa.  The accessory above was from Lo Boheme.



Sweet acoustic guitar played by friend-of-the-couple, Kabir Green, accompanied the ceremony processional.








Bruce Coville, another friend of the couple, performed the ceremony (and also gave a toast during dinner)…





Back inside, guests were having cocktails, getting their seating cards, which (see below) were on tags attached to cute little toys and figurines chosen specifically for each person, what a bit of colorful fun. This project was put together by none other than Beth herself!

The beautiful flowers on the dinner tables were arranged in antique tins of various kinds (rectangular, circular, with and without text, but all colorful).  Below you can see how they sprinkled antique typewriter keys about the tabletops for additional flair.

This venue had stunning lighting inside the reception room– just look at all these beautiful twinkly string lights hanging!

Small colorful lanterns adorned the aisles during the ceremony as well as various spots around the reception like below.

For their first dance Beth changed into a (shorter, more dance-able) pale pink number that swished beautifully as they performed the choreography they had practiced!


Guests sat down for a delicious dinner from caterers Frank and Julio.  Toasts were very funny… Beth's mom used her toast as opportunity to educate us about her various quirks, to everyone's delight…



And of course the sweetest toasts can sometimes invoke laughter AND happy tears– here we had both!


Michael's coworkers made some beautiful remarks to share with everyone what a great inspiration he's been to them in publishing.  It was truly sweet.


The cake (an antique typewriter key for an exclamation point, what else?) and cupcake array was by SoNo Baking Company.

Meanwhile, things were just getting started out on the dancefloor…this kid was a riot in the photobooth… couldn't get enough.  During some downtime he took a break to go learn how to scratch from the super-friendly (and awesome) Stephen Bolles, a.k.a. DJ Still Life!







Props Beth had collected for the photobooth began to make their way over to the dance floor, making for some pretty fun photos.






Comments
Powered by Facebook Comments