Last weekend I had the honor of being called to shoot another birth– this one was long and very intense, I arrived on Saturday around 4pm, and poor Becky had been laboring (and not getting much sleep at all) for almost a day and a half already. She was already almost 2 weeks past her due date, so I had been very anxious to get this call! When I arrived she was sleeping, and got into the birthing pool shortly after. Her doula had been there since 9am Saturday, and they called in the midwife at around 10pm. We stayed up all night as contractions became more intense, taking turns napping when necessary, and Becky continued in hard labor all of Sunday, trying for most of the day to resist the urge to push as she wasn't yet dilated far enough. Finally around 5pm or so on Sunday it became clear that the baby was stuck at a certain spot and not making any progress… Kristen, the midwife, did everything she could to help open the cervix wide enough for Becky to push, but it became clear that nothing was going to work… so after almost 60 hours of labor Becky and Jon went to St. Vincents' Hospital, where her beautiful (and healthy!) baby Sion was delivered by Caesarian at around 10pm. I was so impressed with how hard she worked to give birth at home, it was incredible to witness her determination and the tenderness and support of her partner, Jon. Congratulations, Becky and Jon!!!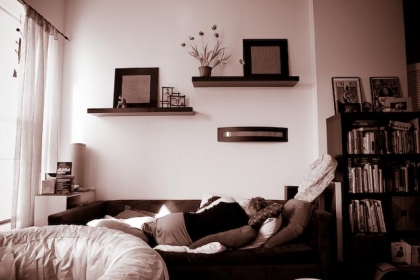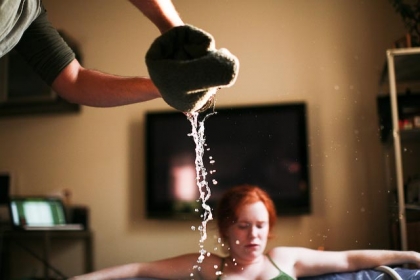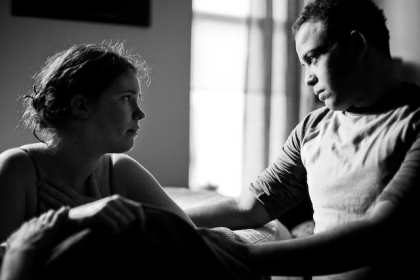 After the doula has timed contractions to be certain duration and intervals Jon phones the midwife to see if it's time for her to come over.


Kristen, the midwife, arrives ready for action…


Finally Becky gets a much needed break from the heavy contractions and is able to rest a little while.





Their sweet kitty came in and out to watch what was going on from the other side of the room…

On Sunday morning an acupuncturist was called over to try and ease Becky's pain and increase her energy. It seemed to work…

After trying to manually push the cervix over the baby's head and allow him to come down, it was decided that the baby was stuck… and further progress would probably not be had (for many more hours or days or possibly ever) without intervention.  They deliberated, cried, got dressed and packed bag for St. Vincent's still hoping to maybe have a vaginal birth with assistance there. Once there, however, it became clear a C-section was necessary. Though I couldn't be present for this part of the journey, I visited Becky and her new baby Sion in the hospital the next morning, it was great to see her smiling and happily holding her baby boy. She is going to be an amazing mother! Congratulations, Becky and Jon!


Comments
Powered by Facebook Comments