I had the opportunity to travel with friends to the arts festival known as Burning Man this year. I took along 4 different cameras to experiment with, (a plastic toy cameras, a lenticular camera, and a 3d stereo lens attachment for my digital slr along with a circular fisheye lens on a 35mm and my old medium format Kiev 66.) I shot most of the following on a used digital rebel that I bought just for Burning Man! I was too scared to take my expensive pro SLR systems as I had heard horror stories about dust storms ruining lenses and such. It was an unbeleivable experience, and there's no way I could have known what to expect before going… I had a blast and most of all it was a fantastic photography vacation– so much to shoot. I've now got a show of work from this series showing at BOULEVARD, the East Williamsburg cafe and sandwich shoppe that just opened up. They make great coffees and the sandwiches are delicious. A bunch of the below are hanging there in frames now… not sure how long the show will run so check it out soon.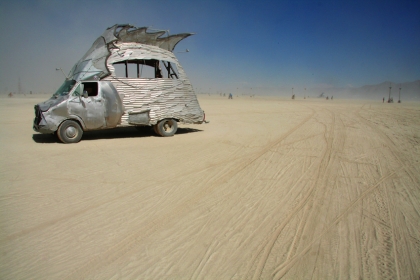 The only vehicles allowed to drive within Black Rock City are 'art cars', such as the above… these can be small bicycle or golf-cart based things built out and decorated or as big as double decker buses that have been completely re-designed. It was unbeleivable to see the things people put together.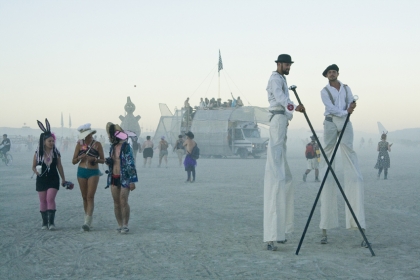 The costumes range from funny, sexually provocative, period-based, just plain ridiculous, but above all as original as I've ever seen, more so than halloween in NYC even.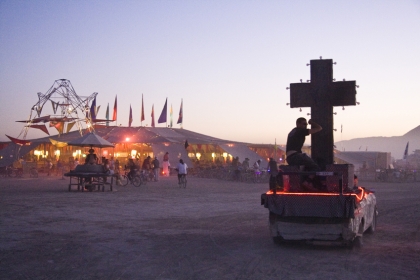 The theme of 2008 was "The American Dream." It was interpreted by participants in so many ways, and there were many thought provoking sculptures on the Playa.

There is so much fire at night. Everywhere you go something is shooting flames or someone is spinning something on fire.

Center Camp at night… encircled by bike racks full of art-bikes, it was a beautiful thing.





Riding in one of the decked out art-buses.

Yeah, and someone set up a roller skating rink. Alas, I was so busy exploring and taking photos I never even skated!

A crowd gathered around the radio station they had set up as it was broadcasting Obama's speech from the DNC. You wouldn't know it from this picture but there were actually police in riot-ready gear on 4×4's that pulled up to listen and monitor the crowd (as though there would be a riot ?)

The "Death Dome" featured a nightly series of matches of, well, I'm not really sure how to describe it. But it was competetive and entertaining, to be sure!


The one above is multiple exposures of people spinning light-up "poi", etc.

The sunsets in the Nevada desert were so gorgeous.
Comments
Powered by Facebook Comments