Daisey & Derek were married on a beautiful day in May in coastal Connecticut, just a short drive from New York City.  From Daisey's preparation at her folks' house through a first look by the water, a church ceremony, and even a boat-ride back to the yacht club for their reception by the shore, this was a whirlwind wedding day and there was so much beauty at every turn!  I was so honored to capture this sweet couple's gorgeous wedding– these two actually met in high school and over the years they have built the kind of deep and resiliant love that everyone dreams of having with a life partner.  I knew I just had to share their story with you so I asked this beautiful bride if I could quote her directly!
Here it is in Daisey's own words:
"The Beginning: We were just kids when we fell in love..
Our love story began in the halls of our high school. I recently transferred to a school in New Canaan,CT and Derek's locker was next to mine. From those early days a friendship blossomed and soon we were tip-toeing into first love territory.
After graduation, we both set off to different colleges and new adventures. However, we never ended our friendship. Phone calls, Facetime, and weekend visits- we remained each others stronghold through the growing pains.
Fast forward four years, and I am assigned to begin Teach for America in New York City. In a serendipitous act from fate, Derek received an offer from a boutique trading firm 4 blocks away from me in lower Manhattan. Knowing this was the universe telling us to jump head first, we made a commitment to one another to give our first love a forever try.
New York proved to be the place we grew together, from coping with the anxieties of a first job, to exploring the secret gardens in a concrete jungle we spent every spare moment together-learning, laughing, and loving.
In Summer 2016 I received a job opportunity in CT, it was difficult to imagine a long-distance relationship, but we barreled through that challenge, not knowing that each small hill was preparing us for the mountain we would climb together.
June 2017 I was diagnosed with Multiple Sclerosis- a summer filled with disability, needles, drug cocktails, pain, and fear. Without a falter, Derek held my hand, kissed my tears and never walked away. Those months led to a new normal, but much better stability. It was during the darkest hours, that we knew we wanted to spend every day together walking toward the sun.
We are forever partners, excited to continue our love story." – Daisey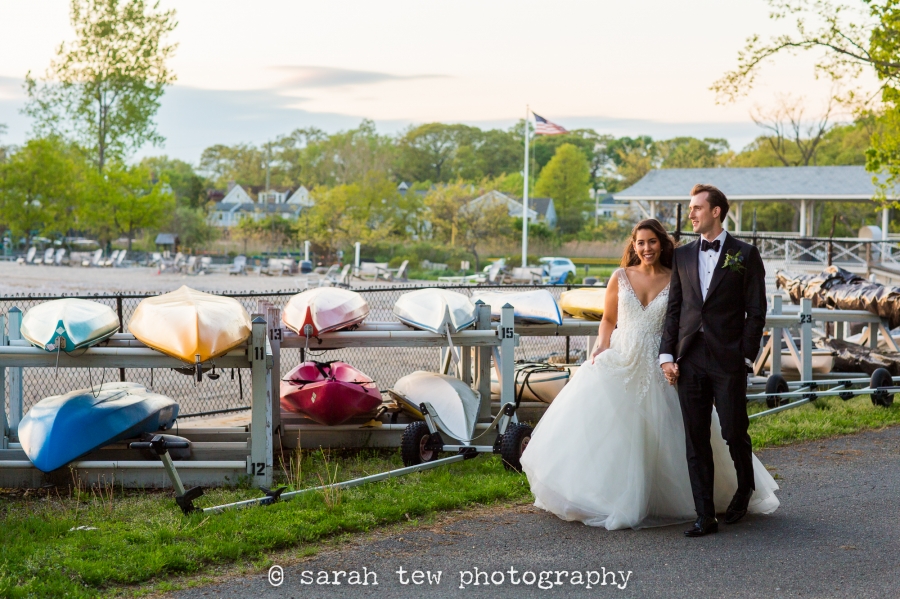 Vendor Credits:
Venue: Roton Point Association
Wedding Coordinator: Ava Improta of Forks & Fingers Catering by Design
Florist: Hansen's Flower Shop
Ceremony Musicians: Pizzazz Strings
Ceremony: Assumption Church, Westport CT
Catering: Forks & Fingers Catering by Design
Cake: Lovely Cakes
Vintage Rolls Royce: Black Swan Limousine
Hair & Makeup: Luscious & Co Beauty
Wedding Gown & Veil: Enaura Bridal at Kleinfeld
Bride's Shoes: Bella Belle Shoes
Bridesmaid Dresses: BHLDN
Groom's suit: My.Suit
Groomsmen's suits: The Black Tux
Engagement Ring: Victor Barbone
Wedding Band: David Harvey of Darien
DJ: DJ Stillo 
Videographer: 15 Minutes of Frame
Boatride in Tenacity provided by Captain Samuel Fuller
Flower Wall for photobooth provided by Hansen's Flower Shop
Comments
Powered by Facebook Comments