When one of my very best friends, artist Julie Armbruster, told me that her brother Aaron was getting married I was so honored to hear that they wanted me to be their wedding photographer! Julie's older sister Amy had one of the very first weddings I was ever asked to officially shoot, and Julie and her husband & musician Dave Reinhart's wedding came not long after that. Having met Aaron's bride, Deanna, I knew it would be a special day– she was so excited about their lovely venue, the Glen Island Harbor Club, in New Rochelle, and I must say I was excited too– such a unique little spot with water views– and close to the city, too!  We planned for outdoor couple portraits and the usual groupings, hoping for nice weather, but of course when their wedding weekend rolled around it turned out to be extremely cold– so cold in fact, that it SNOWED for the first time this year… it started snowing shortly before their marriage ceremony and kept snowing throughout the afternoon reception.  It felt magical to watch them get married with a wraparound window view of winter's first snow coming down.  The cocktail hour at Glen Harbour Club was the most luxurious feast I've seen in some time– table after table of delicious looking food… but hopefully guests saved room for the main course during the afternoon reception!  Deanna's family is of Portuguese descent, and many members of her family had flown to the states to be here for the occasion– so they had hired a special band, Banda Navegantes, that could play music suitable for their traditional dancing, and it was especially fun to watch as their young american friends picked up the steps and took a turn around the floor.  To cap off their afternoon of celebration they got everyone up on the floor to encircle them as they danced to "I had the time of my life" song (from the finale of the movie Dirty Dancing)– and they even managed a lift– it was a feel-good moment if there ever was one.

To watch the slideshow at a larger size click where it says VIMEO in the bottom right… but don't forget to come back and check out some of my favorite images below!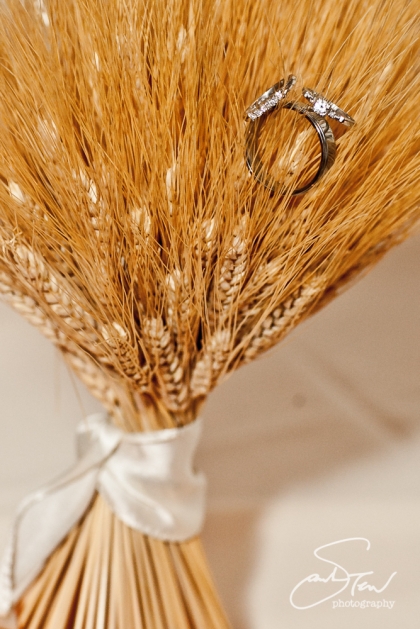 The wedding rings were from Imperial Jewelers NY.
Dress by Justin Alexander, Shoes from Dyeables.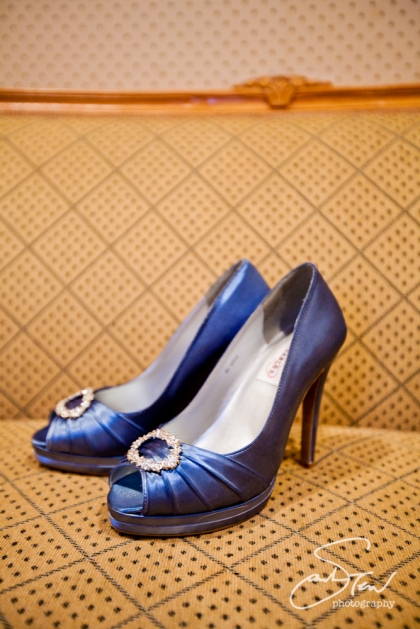 Florals were provided by Arcadia Florals, in Mamaroneck.

I had Aaron turn his back from the staircase so he could turn and see her in her dress for the first time as she descended…

By shortly before the ceremony, it had started to snow!

Guests began arriving and begain making their way upstairs in a ceremony room with wraparound windows overlooking the water.








I really enjoyed Aaron's shoes– just an added dose of pizazz you don't see at many weddings!



Cocktail hour was in a long room with windows facing out to the water.  This whole "club" is on its own tiny island, so most of the rooms have water views!

The placecards were on a table decorated with a number of framed photographs of couples from Deanna and Aaron's family tree.  This re-occurring wheat twist motif added a nice touch to the wedding decor.



I love how the guests are all swinging their napkins in salute to the couple as they make their grand entrance!  Never seen this before– perhaps it's a Portuguese tradition?  Fun stuff!


Deanna couldn't help get emotional during the sweet toast from her sister and maid of honor, Christine.


Did I mention the Glen Island Harbor Club did a bang-up job with the food?  Each and every dish looked fantastic.



Flowergirl Julia and Ringbearer Dawson were cute as could be…


Dawson is, in fact, the son of Amy & Dave, whose wedding was one of my first jobs.  Meeting him for the first time was very special for me– and just look at the cute matching shoes they had him in!



I knew the way this dance floor was reflecting light from the windows would look great in black and white!

Deanna & Aaron's cake was also provided by the house catering team at Glen Island Harbor Club.




Embracing traditions, Deanna shared a dance with her father and tossed the bouquet!

And here's that lift I mentioned!  Way to go guys– congratulations on a great wedding!

Comments
Powered by Facebook Comments