Kate & Charley have been together since they were students at Carleton College, and they are one of those couples that just seem totally relaxed together and you can just tell that they have each other's back no matter what, it's such a good fit.  My suspicions about how great they are together were confirmed by the toasts we heard at their wedding last weekend, at Housing Works Bookstore .  They wanted to have a mid-size yet intimate wedding with friends and family in attendance, many of whom came from the midwest for the occasion, and so a double-decker sightseeing bus was arranged to shuttle guests for a quick tour on the way from Blessed Sacrament, on the Upper West Side, down to the reception in Soho. My assistant photographer Zack rode the double decker while I rode the partybus downtown with the wedding party, snapping some shots as we went. By the time we made it through some tough traffic down to the bookstore it was fairly dark outside so I made some nice portraits of them upstairs amid the bookshelves, and got onto the fun business of capturing the details for their reception. What a beautiful job Michael Day did on the on this wedding– I feel so lucky to work with such talented vendors on weddings like this– his florals were perfect dressing for the long dinner tables.  Event planning was handled beautifully by Amanda O'Callaghan of The Works Catering.  During cocktail hour we were treated to the wonderful and romantic musical stylings of Lapis Luna…  I can't say enough good things about this band, they sounded fantastic and chose some really great covers– just really great tunes to appeal to young and old guests.  Their music combined with the low lighting and candles provided the perfect atmosphere for cocktails and dinner… after which a more danceable playlist got turned up loud as folks migrated to the dancefloor!  I was able to steal Kate and Charley outside for a quick night portrait towards the end of the evening… if I hadn't needed to take my equipment back to studio I would have been tempted to join this crowd at their well-publicized after party– check out the admission bracelets that they had out for guests to get into the club– such an awesome idea, and I bet it was a great party.  Congratulations, Kate & Charley, your wedding was fabulous!

To view this slideshow in its larger, prettier format, please click on the word "VIMEO" in the frame above and it'll take you to the vimeo site's version… but don't forget to come back and look at my favorite shots below!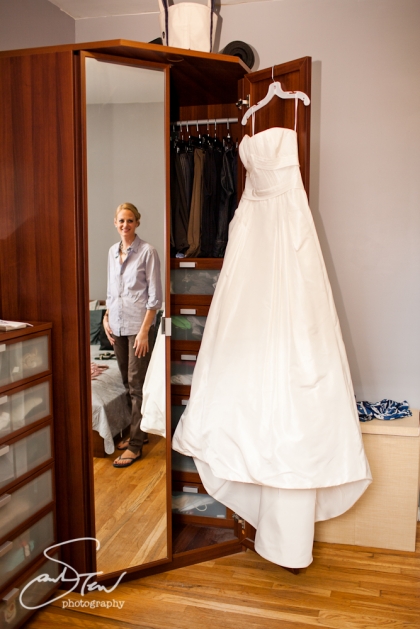 Kate chose a elegant, *pocketed* (i love this) gown by Anne Barge, paired with these fun strappy sandal-heels below by Donald Pliner.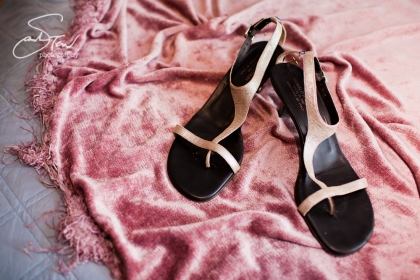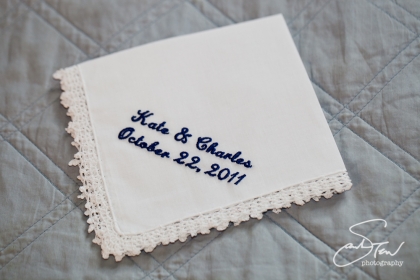 To accessorize with the gown, Kate selected this amazing necklace from Tejani.






Kate's beautiful hair and makeup were done by Jenny at Robert Stuart Salon…

Kate's dog, Lily, was such a sweetheart.  If only she could have joined them in the ceremony somehow!  Alas most churches don't allow dogs 🙂














After some family and wedding party portraits we loaded onto the respective buses (partybus for wedding party, doubledecker for guests), and headed down to the reception venue.  Here I am below art-ing it up with the party bus's mirrored ceiling panel.  It was a long ride and I was determined to shoot something cool using that mirror…





These lovely wedding rings are from Cartier.  I don't think I'll ever get sick of shooting weddings at bookstores.  What can I say, I love books… AND they make great props for ring-shots!

Even before the candles were lit I was blown away by the prettiness of the tablescapes!  I love how they incorporated books into the decor.




Finally the doubledecker arrived and the guests explored the space during cocktail hour.






After guests were seated for dinner there were some wonderful toasts…



Kate & Charley thanked everyone for coming and invited them to the exciting after party– wristbands were provided to get everyone into the club…

After dinner the dancing commenced…




I love this shot of Charley below, playing with his wedding ring and grinning ear to ear!






And here we are just across the street from the bookstore… didn't want to take them away from the party for long so we grabbed a few shots and headed back inside!

Comments
Powered by Facebook Comments