Let me just preface this with a warning… this is a long blogpost.  I selected way too many pictures to share, I couldn't help it.  Battery Gardens is awesome and so are Katie and Jason… whose engagement portraits you may have seen here this spring.  As most New Yorkers have found themselves commenting on the weather lately– it's been a bit odd.  Last Saturday was no exception– it was crazy windy.  So windy, in fact, that Katie & Jason opted to have their wedding ceremony upstairs indoors at Battery Gardens instead of outdoors.  But we did not let said wind stop us from making some great images of them outside.  Indoors, the ceremony was in a beautiful area with light streaming in from low in the sky–we could see the Statue of Liberty up there through the giant wraparound bay of windows, very pretty in person but made for a challenge in terms of exposure during the processional, as one person's face or half their body would be in bright sun and the rest of them/the person they're walking with was in comparative shadow.   In any case the ceremony was really sweet–Katie and Jason wrote their own vows of course, and as soon as they'd finished their moments alone afterwards I swept them right back outside for some "just married" portraits that could take advantage of the sunset sky… after a few minutes of this we headed back into find cocktail hour buzzing right along beautifully in the first floor space, with some guests even venturing out onto the patio to enjoy the fresh sea breeze.  Meanwhile the staff reorganized the top floor for the reception, and I got there in time to make a nice room-shot after the candles were all lit but before the guests started flowing in– always a tricky moment to snatch!  What a beautiful venue– the views, the patio, the elegant bar area for cocktails, this place has it all.  I found the Maitre'D' and staff to be particularly courteous and helpful throughout the evening– they really know what they're doing down there and I hope to shoot there again sometime, perhaps when it's less windy… Here's a smattering of my favorite shots from the night.  Kudos to my assistant shooter Dmitry for capturing some great angles on the Hora chair-lifting while I was getting the wide shots from up on a chair!  He was also just in the right place to get some beautiful shots of Katie tearing up during a very moving toast from her father.  Did i cry?  Um, yeah.  Seeing her Dad sing to her after telling her what an amazing person she's grown into was one thing but seeing the emotion overcome her just took me over the edge.  I'm telling you, I love weddings.  LOVE THEM!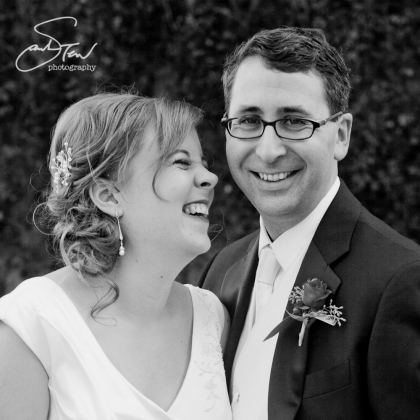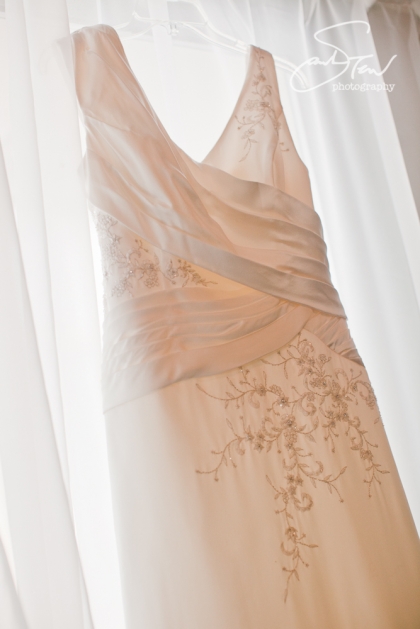 Katie's dress was by Matthew Christopher.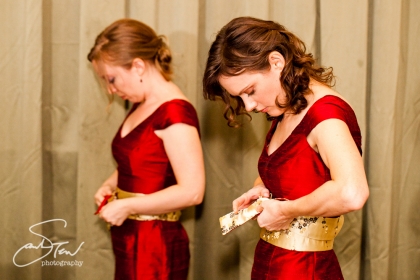 I loved this shot I got of Katie's mom looking on as the bridesmaids helped her get her dress on… the bridal suite at Battery Gardens was a comfortable size, and I liked shooting against these green curtains.

Shoes by Best Ballroom Shoes.

Katie's hair was done by Stacy Pitt, makeup was by Nicole Sievers.

These beautiful florals were done by Rose Red & Lavender.

Meanwhile I had Dmitry out shooting the fellas getting their bout's on and getting ready for the couple's "first look" as we call it.


He looks excited right?  The were so cute together… it was pretty windy at this point so I had picked the most sheltered-yet-pretty spot that was nearby and had Dmitry tell Jason to face away from the building so Katie could sneak up behind him and tell him when to turn around…



This was one of a very few spots that was somewhat sheltered from the wind– lucky for me the structure behind them had a lovely ivy-covered wall…




Loving this shot of Jason's dad watching them together shortly after first look… he looks so proud and happy for them!

After that round of portraits and family shots we retreated inside where the families convened with the wonderful Rabbi, Marcia Rappaport, for the signing of the Ketubah, which was a beautiful creation by Jennifer Raichman.

While we were busy with the Ketubah, guests were arriving– upon entering the building they saw a lovely display of family photographs…

And they were able to hang out in the bar/cocktail lounge area…

The invitations, seating cards, and program were all designed by the wonderful Rebecca Hume…



Once the guests were all seated upstairs, the ceremony began.  They walked in to a beautiful song– The Book of Love by The Magnetic Fields!





After a few minutes alone together, I was able to steal them outside (and the wind had died down a bit, thankfully!) for another quick set of portraits– I simply had to take advantage of the sky… it was better and better right until dark!


I love playing with old fashioned film-looks when I'm processing pretty portraits like this.  Warm tones were calling to me for the below portrait of them with the Statue of Liberty in the background.


Isn't this patio fantastic?  I love the way they put lanterns in the tree… this was later during cocktail hour.  The scene below shows the interior of the ground floor of Battery Gardens from above the bar…

We move upstairs for some shots of the reception room before everyone came upstairs…


Their guestbook was laid out on a table for gifts that featured more family photographs arranged… right next to that we set up our open air photo studio… and now it's time for the reception!





These moms looked so elegant!  Great dress choices, you two!




I love it when the grandparents get out on the floor!


Being a fellow wesleyan graduate I knew the crowd at Katie's wedding would not disappoint– they brought their dancing shoes!  The great tunes provided by DJ Rob Kelley made for an excellent party atmosphere.

Toasts were touching at this wedding– much was said about what genuinely good and caring people Katie and Jason have grown up to be– and from my experience this couldnt' be more true! 




Did I mention Katie's dad sang to her?  Yeah, it was moving.





Time to "cut" the darling and delicious "cake" by Bee's Knees Baking Co. 



Also–Jason & Katie had me bring my open air photobooth setup for their reception– we did a small version with my velvety woodgrain background– check out the results in the slideshow below!
Here's what we set out for the guests to use… they take their own pictures with the wireless transmitter you see there on the table.  The login-cards featuring engagement portraits show people the address and password for the full gallery (so they can order prints if they wish) after the wedding…


Comments
Powered by Facebook Comments