Katie & Sharmilan got married at one of my favorite locations I've shot at in the last few years– Buttermilk Falls Inn in Milton, NY.  Just over an hour from the city this picturesque venue is nestled along the Hudson River and features duck/geese ponds, pretty little bridges, rolling hills and giant weeping willows.  Oh and practically a field of beautiful day lilies!  They had their ceremony outdoors on a slope towards the pond, followed by a cocktail hour and tent reception down near a patio with a view towards the river.   This one will be tough to blog about in terms of conveying how pretty all the choices were– you may just want to skip to the images!   Everything was SO beautifully planned and had such lovely personal touches, such elegant style… everything fit the couple's personality and had that inviting warmth that the best wedding celebrations are so rich with.  The ceremony featured such sweet readings and even a sing-along.  Their cute-as-can be dog, Wilbur, was walked down the aisle as the ringbearer to everyone's delight.   For tablescapes the couple chose (and had Katie's father send all the way from Britain) to use colorful old tea-tins for the gorgeous centerpieces and beautifully arranged fruit on cutting boards atop burlap runners— pretty pink-rimmed china plates displayed letterpress menu cards with mouthwatering descriptions of the caterer's farm-to-table dishes.  The band, whom I'd had the pleasure of seeing before, has got to be one of the best bands you can book for a wedding around here– and they did not disappoint.  After a heartwarming set of toasts (Sharmilan's brother's speech brought tears to my eyes!) the crowd was ready to get down!  I was able to squeeze in a few shots of the after party in the barn before heading back to New York City.  Thanks again to Jeff & Nick for their excellent 2nd shooting and assistance on this wedding.
Katie & Sharmilan: A Wedding at Buttermilk Falls Inn (Hudson River Valley) from Sarah Tew Photography on Vimeo.
The Wedding of Katie & Sharmilan: Buttermilk Falls Inn & Spa in Milton, NY from Sarah Tew Photography on Vimeo.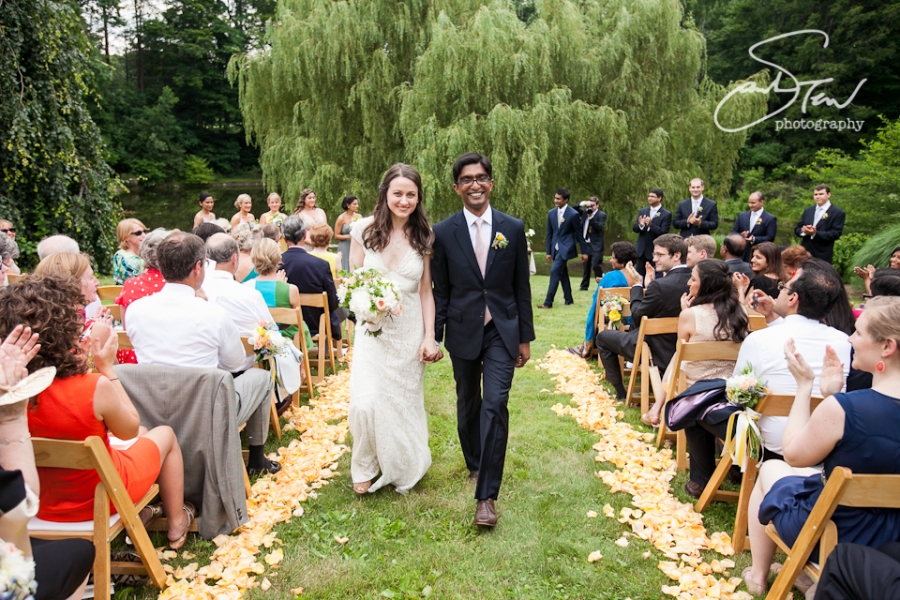 Credits:
Wedding dress by Claire Pettibone
Shoes by Jimmy Choo
Makeup & Hair by Studio One
Flowers by Linda Baldwin
Food by Main Course Catering
Cake by The Village Tearoom
Music by The Dexter Lake Club Band
Invitations & Paper Goods by Mr. Boddington's Studio
"Tea for Two" favors by Becky Jensen
Comments
Powered by Facebook Comments