Marisa & Nolan chose Housing Works Bookstore for their wedding– a location I've grown very fond of the more I shoot there.  I met them at the Crosby Street Hotel and we did a little portrait walk up from there up the street and around a block to the street outside the bookstore where we met their family.  Since the bookstore staff was busy transforming the interior into a wedding venue we went ahead and took care of all the family group pictures outside in a quiet alley nearby with a simple brick wall for a background.  Once we were allowed inside I finished up the last groupings in front of a pretty bookshelf, and then it was on to the Ketubah signing downstairs while their guests began to arrive and were enjoying a cocktail hour upstairs.  In lieu of a guestbook (and in keeping with the bookstore theme) Marisa & Nolan had utilized an adorable "card catalog" drawer to give guests a way to write their best wishes or a note of advice to the couple.  The marriage itself was performed by Rabbi Hirsch under a traditional Chuppah, and I must say their Cantor had an amazing voice– he even got everyone to sing along with him during the sweet processional music– which was a particularly moving way to start the ceremony.  Immediately following the ceremony the chairs were whisked away and the crowd was swept up in the Hora dance, complete with chair-lifting and everything. Following this guests sat down for a meal and were treated to not only the traditional toasts but a fully prepared skit depicting the couple's story performed by Marisa's sister and friends!  You can bet there were some big laughs.  Though the dance floor itself is on the smaller side, the HWB has a wrap-around balcony that enables folks who want to watch the action stay close but not be in the way– just one of this cozy venue's many perks.  The Works Catering is always top notch (as I've mentioned here before)– they always have some delicious vegetarian plate for me too, which is extra nice after a long day of shooting.  After the eating and more dancing, I took Marisa & Nolan outside for a few minutes to snap an atmospheric night portrait of them on Crosby Street's cobblestones.  I am so happy for this sweet couple– they are so obviously perfect for eachother and I can't wait to see where life's adventure takes them.  Congratulations, Marisa & Nolan!
Vendor Credits:
Ketubah by J Levine Judaica
Wedding Cake by Marneycakes
Marisa's Hair by Kimiko Suzuki
DJ: Carol Moore of A Starry Night
Planner/Coordinator:  Amanda O'Callaghan of The Works

Marisa & Nolan's Wedding: Housing Works Bookstore in SoHo from Sarah Tew Photography on Vimeo.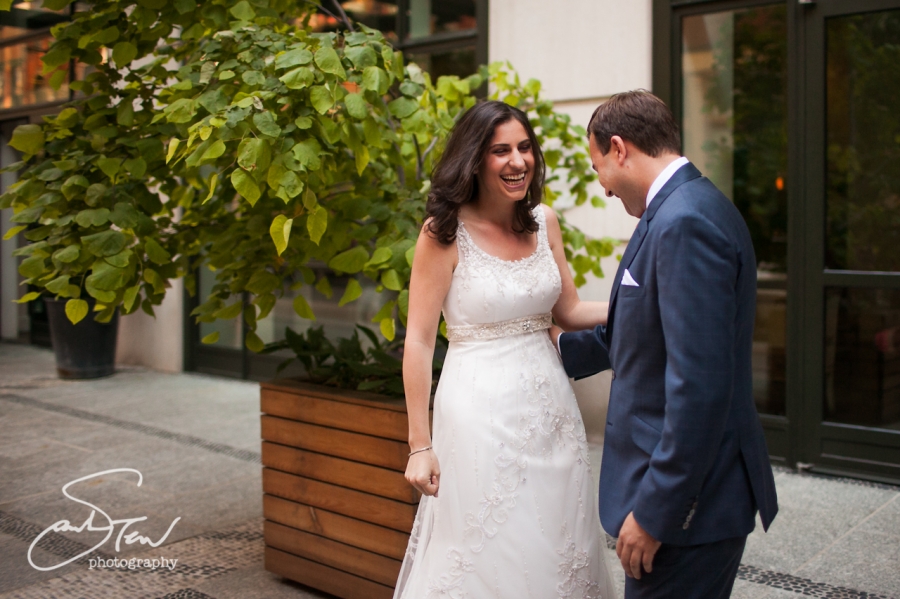 By the way, this "lightbox" above is a new feature of my improved new blog here– once you click on any picture you can hit 'next' and go through them all nice and big if you like, but you can see all the thumbnails here very small for reference, which I think is neat.  If you feel like commenting I'd love to know if people prefer to scroll down through lots of large images like I normally have shown them (though it makes the page take longer to load) or if they enjoy this presentation more.  Thanks for the feedback!
Comments
Powered by Facebook Comments