Michael and Kimberly wanted to have a wedding close enough to NYC that their friends here could easily come– they found the most charming little venue called The Woman's Club in Englewood, NJ that was about 20 minutes out of the city, where they could have their ceremony outdoors and their reception in a room just the right size for their party.  I just love what they did with the decor– as my blogpost title indicates, they did a lot of it themselves (DIY), gathering together a collection of unique vintage brass pieces to decorate the tables with as well as arranging their own flowers (you'd never know these weren't done by a professional, I think Kim may have a second career awaiting her in floral design!), candles, tissue poms, and other unique crafted decor.  For their favors they gave away pieces of organic chocolate from Sweetface— and I must tell you it was delicious!  Not only did this couple display an enormous committment to making their wedding their own, their guests totally tore down the house.  I mean that in a good way– the dancing at this party was over the top– it was joyful, let-loose, make-funny-faces-when-we-dance kind of crowd (my favorite kind!)– and towards the end of the night there was some serious showmanship out there on the floor.  Take a look at some of my favorite shots from this sweet wedding– Congratulations, Michael and Kimberly!
[youtube http://www.youtube.com/watch?v=khUGLvAoPHw?hl=en&fs=1]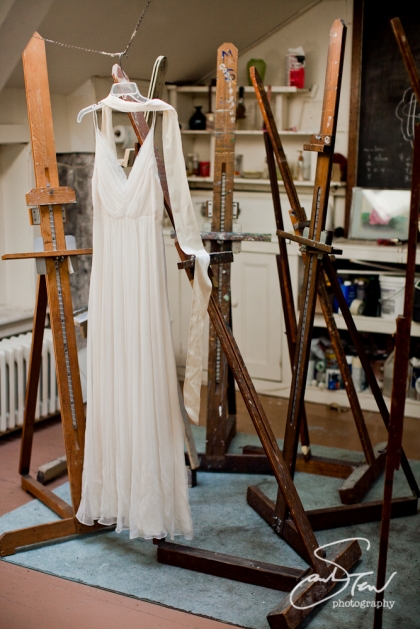 For those of you wondering, this dress is by Saja.  And yes, those are easels!  There is some sort of artists' atelier on the 2nd floor of the Woman's Club. (I keep wanting to write Women's Club but apparently this is how it's spelled.  Sorry all you other women out there who want to join!)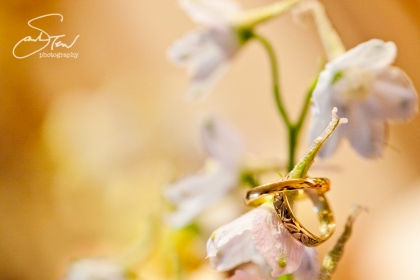 Rings by Bell and Bird.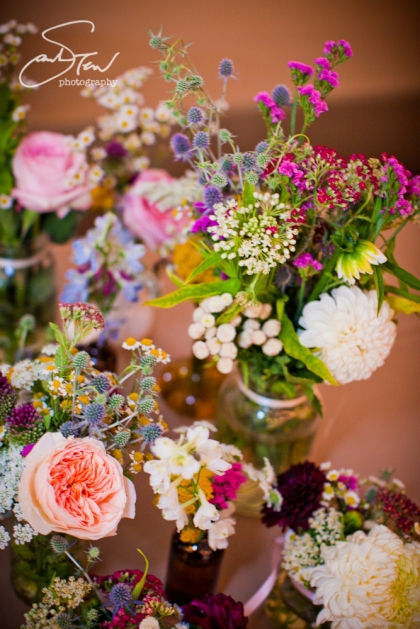 Such a lovely assortment of color and flower-style… each table had a unique arrangement and different brass decorations and bells…

Old wedding pictures from the family adorned the staircase to the bridal suite where Kim got ready.

Michael said they found most of these cool brass bells and ornaments on Ebay!  It looked fantastic.


I just love this shot.  She's putting some (very natural) makeup on before she puts on her dress and the bathroom was pretty small but I knew if I got low and backed up i could hide my reflection behind her and get this cool symmetry.  Couldn't WAIT to put this in black and white…


This little guy was a total cutie.  Had the whole crowd laughing when he walked down the aisle and went straight to Michael's leg and didn't want to leave…



Their officiant, Maureen Jeffries, did a really nice job– and Michael and Kim had very thoughtful and personal vows, of course!


Now that is how you do it!  Am I right, ladies?  What a sweet kiss!




Had to pose them in front of the vintage mercedes (Grandpa's) since it was right there…



Here's their SO YUMMY carrot cake by Blue Sky Bakery, complete with vintage style wedding topper:


Their DJ, Mr. Fine Wine, pretty much RULED.  He was spinning incredible soul, funk, and vintage rock'n'roll vinyl all night long.  I think they found him via a WFMU show.


And now you see my favorite new little trick: the star filter 🙂

An improvised dance with a couple of the tissue poms from a guest…

Some ties came off…

A little breakdancing…

Now here is something you don't see every day:  A BRIDE DOING A FULL SPLIT ON THE DANCE FLOOR!!!



Comments
Powered by Facebook Comments