Cheryl & Brian got married on July 9th at St. John's Church (lovely church!) in Park Slope.  They met and became friends when they were both volunteering at Housing Works, and so it was only natural for them to hire The Works to plan and cater their reception, which they had at another bookstore location– PowerHouse Arena, in DUMBO, Brooklyn.  After the ceremony guests were taken on a fun and scenic ride on a double decker tour bus over to the cocktail hour while we took the newlyweds for some portraits alone in front of the Church and down at Brooklyn Bridge Park while cocktail hour got started.
[youtube http://www.youtube.com/watch?v=CatuGPYh6pc?hl=en&fs=1]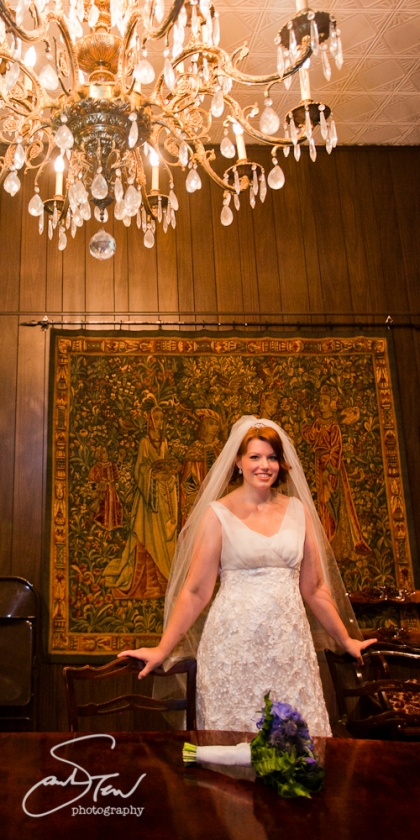 Cheryl's dress was by Birnbaum & Bullock…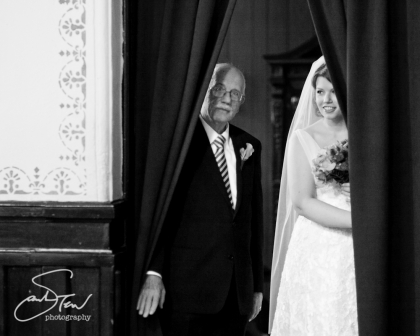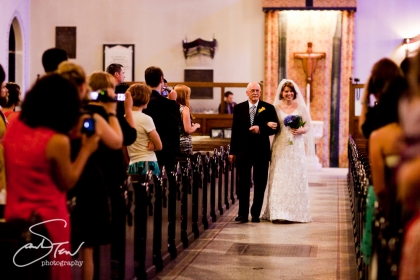 The ceremony at St. John's was very pretty– I loved the interior here, elegant and colorful yet very simple elements.



Cheryl's makeup was done by Francesca at Butterfly Studio…



To our delight Cheryl's hydrangea-based bouquet matched the hydrangea bushes growing in front of the church– I just had to get this shot despite the scaffolding that was up while St. John's is having work done.

Great shot in the "party bus" above shot by my 2nd shooter, Dmitry Gudkov.

As we neared the reception location Cheryl lifted the shades and I caught this lovely light on her face…

Brooklyn Bridge, a sunny (if windy) day, a happy couple… bliss.


The reception site, PowerHouse Arena is a spacious and unique DUMBO bookstore and event space.

plenty of room for a dance floor, cocktail hour, and lots of tables.

Mohitos were served during cocktail hour– they looked SO GOOD and everyone seemed to be enjoying them… perfect for a summer wedding.

Isn't this a pretty space?  The flowers (more below) were all done by friend-of-the-bride, Shirin Keen… I loved the blue and yellow together.


The cake (so simple and pretty!) was by Made in Heaven Cakes-– inside was red velvet, one of my favorites.

Shirin is a lawyer, but I think she clearly has a knack for flowers.  Look at the way she arranged these stems and cut them perfectly so the blooms start right above the vases!  Just so simple and beautiful.

One thing that's cool about PowerHouse Arena's space is that there's a big set of steps over by the dance floor area– perfect for guests to lounge and chat during your reception and cocktail hour.  We even did some posed family group shots staggered up around some of the stairs.

Another element Shirin incorporated into this modern flower design was the use of driftwood pieces and simple candles.






There were lots of cute kids running around at this wedding–which is always fun to photograph–  check out a few of my favorite shots of them.






And finally, after it got dark I made sure to steal the couple for a few minutes and get a nice portrait of them down by the water with the bridge and manhattan lit up in the background (this is the Manhattan Bridge which is so pretty at night).

And I snagged this fun action shot as Cheryl walked back to the reception. I just can't get enough of her pretty smile– that Brian's one lucky guy!

Below is a slideshow of highlights from the open-air photobooth we set up on the 2nd level (upstairs from the reception) at PowerHouse.  It was a perfect spot for people to get away and get silly taking their own pictures for a few minutes…
[youtube http://www.youtube.com/watch?v=DIEJmegbhlY&w=400&h=257]
Comments
Powered by Facebook Comments