The week leading up to Nicole & Ben's wedding was exceedingly hot, even for a NYC summer… this particular heat wave was so hot, in fact, that we were all a bit relieved to find out that Nicole and Ben had opted to move their ceremony indoors, despite the beautiful garden outside. I knew as long as I could do their first look and couple portraits outside (as quick and painlessly as possible) that would satisfy my need for greenery– normally I'd want to do the family portraits outside too but in this case we had access to some a lovely room with plenty of space (and air conditioning) so it seemed the obvious choice to do them indoors. I was very impressed with Tarrytown House Estate grounds and staff– everyone was courteous and on the ball!
[youtube http://www.youtube.com/watch?v=uZZlAlByAVc?hl=en&fs=1]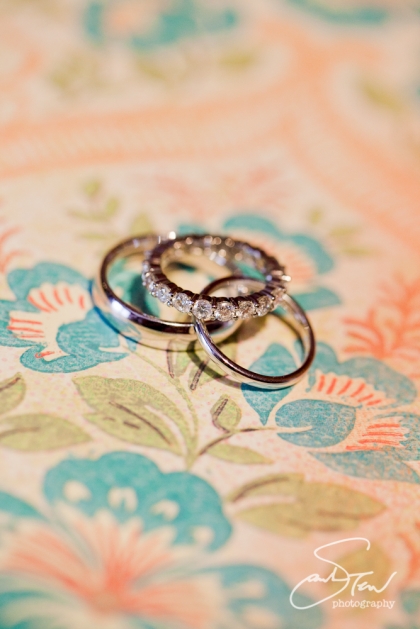 Ben sent this flower arrangement to Nicole the day before the wedding… she posted a pic of it on facebook and I couldn't believe how big it was when I saw it in person– it was quite breathtaking!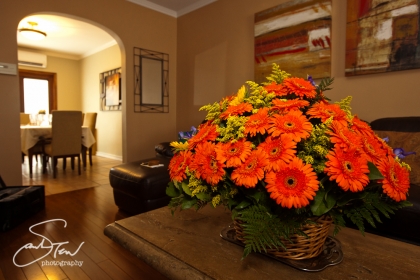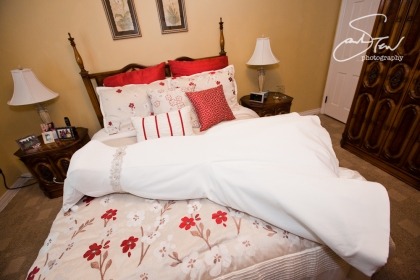 Nicole chose her gorgeous dress at Kleinfeld– by Vineyard, and her shoes are from Nina.



Her bouquet and flowers were by Daniel Florals and Events, Inc.



Nicole and Ben were so excited in a great mood despite the heat, I found their "first look" moment to be particularly sweet… Please check out the stunner Jeff got of them from through some nearby trees.









She walked down the aisle to the lovely sounds of friend Emily Adler playing the harp.





The ceremony was made more special in that it combined two religious traditions, with both Monsignor Cassato and Rabbi Jaffe officiating.

While Nicole and Ben enjoyed their cocktail hour we quickly set up our photobooth in the room adjoining their reception hall and then I joined them to capture the fun and mingling…






The cake was by Sweet Lisa's.







I have to tell you, Ben was a really fun dancer.  He was totally into it, makin' funny faces and totally inspiring whomever was dancing near him to get into it too… hats off to you, my friend, AND to Grandpa, here, who was shaking it like crazy out there!



There was so much love at this wedding.  I couldn't stop grinning the whole time I was editing their photos.  I mean, that happens to me a lot, but this wedding was so full of love.  I guess that's the only way I know to describe it.  It's so fun to see big families who love eachother like crazy.

Ben got pretty choked up when it came time to deliver his "thanks for coming" speech… of course the crowd teased him and he was laughing about it but it was really moving.

I loved this little flourish Nicole did after they had cut their piece of cake… They're just beaming with joy.  I had hoped it might cool off after the sun went down so that we might get a quick night portrait or two out there without getting sweaty as soon as we stepped out.  Of course, it was still exceedlingly hot and muggy and after snapping a quick handful here by this tree I pardoned them from further torture!  It was worth going out however briefly though– I love this one…

Congratulations, Ben and Nicole!  You make a beautiful couple and you deserve every happiness!
Comments
Powered by Facebook Comments