As many of you know my favorite personal project is shooting home birth documentary stills for my book project (one day I hope to publish a large birth photography book suitable for midwives offices/doulas/moms/anyone interested in documentary photography or birth itself)… I had the honor of meeting Caitlin, who writes about her experience below.  Due to the quickness of her labor (and the length of my commute / timing of call etc) I ended up arriving moments after Marley was born but I wanted to share the images I shot from that point on–  if you know anyone interested in having her home birth photographed (or birth center) please do put her in touch!
Caitlin's thoughtful reflections of her birth experience are below the images… enjoy!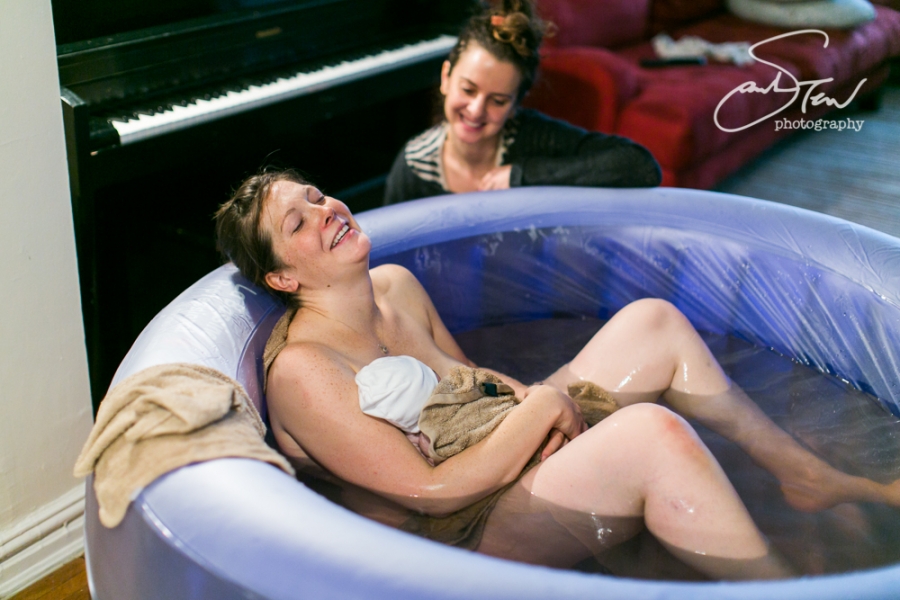 From Caitlin:
"Marley was born in a warm, almost full (I'll get to that later), birth tub. Our room was peaceful, quiet and calm. My birthing space was brimming with love and excitement. My doula, Eszter and my midwife, Stacey filled me with overwhelming confidence in my body and my baby. They supported and cheered me on as I easily breathed my daughter into the world.
I was so proud of us! All of us. Having a home birth was, without question, the best decision of my life. I felt so in control, wildly supported and when all was said and done and everyone had gone home, I was in bed with my new family. I spent my first few hours in MY bed. Not a hospital bed, hooked up to monitors with a roommate and aggressive nurses. I felt so amazing and strong, I could not understand why anyone would make the choice to birth in a hospital if they were a good candidate for home birth. I say this as a woman who chose to have a natural, unmediated birth with my first child, Julian, just two years ago in a hospital with an OB.
Looking back on my first birth in the hospital, I realize now how truly violated I was, as a woman and a human. From the moment I arrived, I was coaxed to sit in a wheelchair, even after I said I would rather walk. My clothes were taken from me and I was issued a hospital gown, I was tagged with ID bracelets and hooked up to fetal monitors. I became a patient rather than the person I thought I was. No one made eye contact, or spoke to me, everyone's eyes were glued to beeping monitors, watching and waiting skeptically to see if my body was capable of having a child the old fashioned, outdated way…vaginally. I repeatedly had to refuse an epidural, and was left to labor until pushing time. I pushed for what felt like forever. The pain was excruciating as I was only allowed to push while lying on my back. Even when I asked to shift my position just a little to assist this baby out easier I was denied the opportunity to use the squatting bar or even to sit up a little bit. It was just not convenient for the baby catcher, I guess. I had 2nd degree tearing, no doubt because I was pushing in the wrong position. I was ill prepared for that birth, I was not prepared for the hormonal ups and downs in the days to follow either. I was not expecting the long and painful recovery due to the muscles that had had been strained in my pelvic floor for months after the birth. I knew I was not going to ever let that happen to me again. There had to be a better way, and I was going to find it. I trained as a doula, a labor support person, and have attended a dozen or so births now. I help and empower women who also believe that there is a better way to birth.
When we found out we were pregnant for the second time, I knew without question we would be having a home birth. We interviewed a few midwives and we really connected with Stacey. We developed a great relationship over the course of 9 months and I felt so safe and confident with our decision. As our due date came and went, emotions were running high as everyone around us was getting anxious for baby's arrival. It was a frustrating time, but I kept calm and made sure to tell myself that baby would come when baby was ready. On Monday the 9th I though, okay, today is the day. I called everyone to give them a heads up that things were progressing and I would keep everyone posted. However, as the morning went on and Julian, (my two year old) needed me more and more, things really slowed down. So I spent the day cleaning and preparing my space for the birth. I had contractions all day, but nothing to worry anyone about. When I put Julian to bed, I really felt another shift as I was able to focus on me again and worked up some great contractions. I put on my birthing day playlist and just swayed my hips and danced until I was too tired to go on. My husband Michael, came home from work. We went to bed and my pressure waves were coming on much stronger and lasting a while. I thought they were pretty intense, but they were not forming a pattern at all. So, I didn't call anyone. I went to the living room when things got really intense because I didn't want to wake michael up. I needed him to be well rested and I had planned on getting him when I couldn't deal on my own anymore. At this point, it is December 10th, everyone is sleeping and I put on my hypnobabies hypnosis to help me through this stage of labor. It was tough and intense, but pain is not a word I would use to describe the sensations. I was able to really ride each wave and vocalizing felt wonderful. It was also a really awesome feeling knowing that I didn't need to worry about child care arrangements or need to decide when to get out the door to go to the hospital. I was going to have my baby right here with my family. It made things so much easier. When the sun came up and Michael came to sit with me for a while, I labored peacefully, deep within myself. I moved back to my bedroom when Julian woke up so that I wouldn't scare him in case I got too loud. I was still timing each contraction and was so confused. These were intense! But there was still no pattern. I felt there was no real reason to start assembling the troops, as I truly thought I would be in labor for a much longer time. This is when I took a long hot shower and it felt amazing. I asked Michael to call and check in with Stacey. We had an appointment scheduled for later that morning. I thought we would just see her in a few hours and she could check me to see how progressed I was and then we could go from there. When I got out of the shower, I had very light sensations of wanting to push. In my head I thought "uh-oh!" Then I tried to rationalize that my contractions were still not in a pattern and so I must be crazy. My mother and my doula were already on their way, but I had Michael call Stacey to tell her I was feeling some pushing sensations. To our surprise, she had a gut feeling that I was needing her and she was already on her way when we made the call. This is also the time we reached out to Sarah to join the party.
The rest of what happened is kind of a blur. I recall Eszter arriving, and the birth tub was being inflated and filled with water. I remember telling Michael we didn't have time for the tub, but he did it anyway, and I am glad he did. Shortly after, Stacey arrived and I was so relieved. I sat on the toilet in my bathroom and was really feeling huge urges to push. Stacey just looked at me and said it was fine to push if I was ready. Part of me really didn't want to yet because I wanted my mom to be there so badly. But when I just couldn't hold back the rushes anymore, I gave it all I had. It felt so, so good to push on the toilet. But the time came when I needed to transfer to the birth tub. And with Stacey on one side, supporting my perenium, and Eszter on the other, I made it into the tub. Julian was squealing with joy as he was holding the garden hose to fill the tub. he then turned the hose onto me and down my naked belly. Having him smiling and giving me kisses really helped during this intense time. My hypnosis was still on and I was bearing down with all my might, but remaining in a state of blissful peace and control. When I felt too much burning, I backed off and slowly eased my girl out with the next push. I felt her head move down and make such amazing progress with each breath. I was so quiet Michael didn't even know I was pushing! Then I heard Stacey say, "Michael, don't go too far!" He said, "what!? It's time?" And just a few easy, gentle pushes later, I felt the baby's head slip out into the water. I took a moment and a deep breath, and with my next exhale I pushed with all my might as Stacey helped to pull her tiny body safely out. Stacey passed the baby between my legs and I sat back in the tub with my baby girl on my chest. It was over. It was all over and I still couldn't believe it was before noon! The placenta came out easily and I made my way to my bed where I was cleaned up and patched up. Marley had her checkup right on my bed in front of me with michael and my mother present. I just held her and smelled her sweet, intoxicating scent for hours. Michael made me a placenta smoothie and I drank it quickly. The thought is that eating some of the placenta immediately postpartum can help to slow the bleeding and restore some iron. The placenta looked beautiful and healthy so I decided to keep it and the following day Eszter and I made a tincture and dehydrated and encapsulated the remaining bit. I am taking the pills every day until they are gone. Consuming the placenta is believed to stave off the baby blues, restore iron and other vitamins to the body, to help with milk production, and increase energy, among other things. To all of these bonuses, I say…why not.
17 days postpartum and I'm feeling great. I'm so in love with my little girl and I'm still on a birth high just thinking about how special and euphoric that day was. It made me feel like the most powerful, beautiful women in the world. If I could go back in time, I would have made my phone calls a few hours earlier, but other than that, I had the most perfect birthing experience and I wouldn't change a single second of it."
–Caitlin
(Writing above is from the subject, not the photographer)
Comments
Powered by Facebook Comments