Tracey and Ben are an amazing couple.  Let's just get that out of the way and warn you this blog post is going to be a little long.  I knew I was going to love this wedding when Tracey told me about the flower-girl dresses during our consultation. Then I found out about their plan for a DIY 3D photo booth setup with stereo prints being made for their guests (along with souvenir 3D viewers of course). Each bit of information I got about the decor (hello, antique typewriter guestbook!) made me psychically drool with excitement to shoot this wedding.  I just love it when a couple is excited to plan the details of their wedding and really run with a theme…  everything at this wedding was visually and conceptually cohesive, to an impressive degree!  Their location, Alder Manor, is a 1912 mansion that was abandoned and left to decay for many years– the original details are all there, though of course, with a flavor of disrepair: paint peels down the walls in many rooms. The seating arrangement at dinner was reminiscent of a royal dinner– a library and a ballroom with long tables and family style plating.  All in all, this wedding was a unique delight–  Tracey & Ben put so much thought and care into each detail of the celebration, I felt so lucky to be a part of it.  Here's the slideshow of highlights– it's best to watch it on the Vimeo site so you can see it larger.  Just click on "vimeo" down at the bottom right…then come back to view the stills below.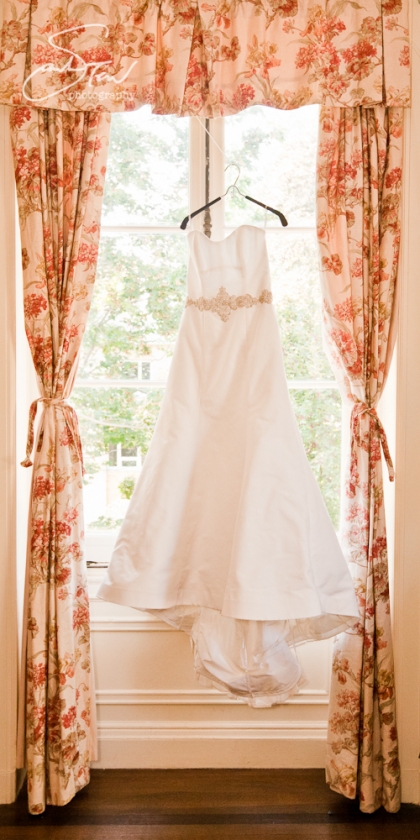 Tracey's dress was made by her friend (a former colleage from the NYC Ballet Costume dept and current film industry professional), Polly Fossey, and was inspired by a Priscilla of Boston gown that Tracey had fallen in love with…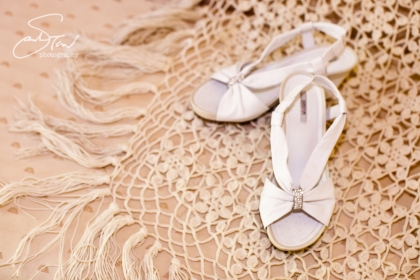 She chose Geox shoes for comfort– a wise choice, ladies– all too often the poor bride is struggling to walk around or up/down stairs on teeny (though beautiful) stiletto heels…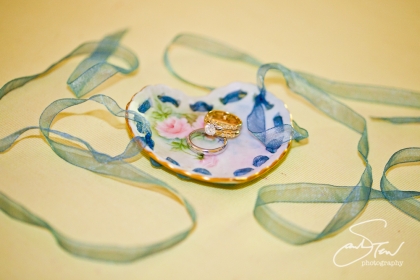 Tracey designed her own rings and had them made through Jewel Boutique… Ben's was a family heirloom.


Vintage beaded handbag and hairpin for the bride of course…

Polly was at the wedding of course, she steamed the dress and helped Tracey get into it, the back features a stunning and elegant pattern of pleated material gathered in at the waist.  Really brilliant design.

Tracey did her own makeup and her hair was set in sweet old-fashioned curls by Danielle Tedesco of Knotz Hair Salon.

In keeping with the DIY spirit here (Tracey and Ben managed to hire only TWO vendors for the whole wedding–me and the caterer– most everything they did themselves with help from their friends!)– the bouquets and flowers were skillfully done by Bridesmaid Liz Brody.



As you can see the bridesmaids were decked out in individually found treasures:  Tracey had scoured the world for the perfect vintage-style dresses in shades of silver and grey with lace and/or beading details!  The gals settled on pieces found at All Saints, BCBG, Cynthia Steffe, Armani Exchange.

Ben, our "bridegroom," as he jokingly referred to himself when being interviewed for their New York Times wedding announcement, showed up in style.

His suit from Macy's was expertly fitted for him by the NYC Ballet Costume Shop where Tracey works.

These rad boutennieres (featuring the groomsman's first initial as a typewriter key!) were made by Tracey with flowers commissioned from Etsy artist Daintyhippo. Below here's groomsman (and brother of the bride) Jeremy wearing his– you can see the J in the center of the flower… neat, huh?

In keeping with the typewriter-key theme, they wore matching cufflinks (both initials) by Mamacantsing.


Here we are in front of Alder Manor.  I took the couple for a spin indoors and out, making photographic use of the visually interesting grounds and interiors (um, 3 floors of abandoned mansion?  YES PLEASE!) for their couple portraits.  And below I had the wedding party stand in front of the columns that back the ceremony area…











I love this picture.  As you can see, this room was pretty beat up, but it just works.   Loving the little cherubs on the mantle behind them…

At one point, Alder Manor was home to a (women's?) college/prep school of some kind.  At least that's what we surmised when we stumbled into this odd room full of student type closets.  For this shot I told Ben and Tracey to pretend they were in one of those "locker joke" scenes from You Can't Do That On Television… inspiration comes from funny places sometimes!


After putting on her veil, we were ready for the Ketubah signing.  Where else but the "deep end" of the 2nd floor pool to perform this sacred rite?



Their Ketubah was lovingly created by artist and friend Lauren Beck.

As for this special Chuppah, it was knitted by none other than Tracey herself!  Surely this will become an heirloom that is passed down in their family and cherished for generations.  What a smashing idea.

You may recall me mentioning my excitement about the vintage style flowergirl dresses?  Pretty fantastic.  Sewn by Tracey herself.

Tracey's mother was looking stunning styled in her silver-beaded vintage-style gown.

The grounds at Alder Manor have an amazing spot for wedding ceremonies– there is a raised platform there framed with an arc of old overgrown columns… it feels like you're walking amidst european ruins there.



After the ceremony Ben and Tracey enjoyed some moments alone on the deck adjoining her bridal suite, overlooking the patio and cocktail hour below.

Guests were treated to a beautifully arranged gallery of antique photos from both Ben and Tracey's family histories.

I just had to include this so you could see how nicely the ridges looked when bustled– this design is really impressive to me.

Ready for more details?  Yes, this is a card box made from an old makeup suitcase.  So neat.

And here is the "guest book" typewriter… they had it out in the same room with their Stereo photobooth and it's fun vintage prop collection shown below… 

And here are the 3d stereo prints and viewers that guests took home as wedding favors!


Dinner was served at long tables in the library and ballroom…

After a round of toasts Ben and Tracey took the floor for their first dance, to "This Must Be The Place" by Talking Heads.  They had cards printed up with the lyrics that were passed around and the crowd encircled them and sang along as they danced.  Um, did I cry, you ask?  Yes.  I wasn't the only one.  When they got to the chorus it was transcendant.  This is why I love weddings.






Rather than the traditional "Father/Daughter Dance," Tracey challenged her father to a Ping Pong exhibition.  I have a feeling the cameras flashing didn't help them play at the top of their game, but what can one do– this HAD to be captured!

Finally they cut their adorable cake from Valencia Bakery, and a desert table was brought out to finish off the night…

Congratulations, Tracey & Ben!  Your wedding was magnificent!

Comments
Powered by Facebook Comments